A report on the Symposium proceedings by Architecture and Design Scotland and University of Dundee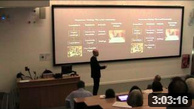 The Practice of Community Charrettes Design in the UK Video
Also see The Practice of Community Charrettes Design in the UK on A+DS
Better engagement and collaboration with local communities is fundamental to the planning and delivery of sustainable places. This recognizes that local people contribute expert knowledge about 'their place' and will ultimately have responsibility as 'owners' or 'stewards' of the eventual outcomes. This key driver of the Scottish Government's interest in Charrette style processes raises the question of what does 'meaningful engagement and collaboration' look like?
A charrette is an intensive planning session where citizens, designers and others collaborate on a vision for development. It provides a forum for ideas and offers the unique advantage of giving immediate feedback to the designers. More importantly, it allows everyone who participates to be a mutual author of the plan.
The recent Symposium in Dundee 'The Practice of Community Charrettes Design in the UK', organized by Dr. Husam al Waer, brought together practitioners, researchers and policymakers to discuss the issue of charrettes.
The event built upon an earlier 'Master planning' symposium.