University scientists visit Fife primary pupils
Published On Mon 24 Mar 2014 by Roddy Isles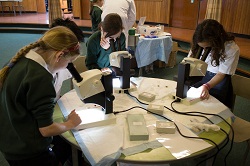 Scientists from the University of Dundee have been passing on their expert knowledge to children at Newport Primary School this week as part of the school's science week.
One highlight of the week came during a session with Dr Patrick Pedrioli who was explaining a disease-causing mutation, when one of the pupils commented, "So the cell is like a city and sometimes somebody breaks the law!"
Among the other researchers taking part were Dr Thimo Kurz, who like Patrick is based in the MRC Protein Phosphorylation & Ubiquitylation Unit at the University, and Dr Deena Leslie Pedrioli, of the Centre for Dermatology and Genetic Medicine, as well as several enthusiastic PhD students and postdoctoral fellows.
Through sessions over the course of the week they were able to give children an idea of what it is like to work in a biology lab. These included peering through the lens of a microscope in an effort to visualize the world beyond the naked eye and exploring the world of microbes around them by culturing microbes from both their handprints and objects in their classroom.
Students also expanded their understanding of the biology of cells, and ultimately tissues, by building different cells out of Play-Doh.
Patrick Pedrioli said, "The pupils had a wonderful time and I think the University of Dundee may well expect to have some burgeoning young local scientists gracing our labs in a few years' time!"
Roddy Isles
Head of Press
University of Dundee
Nethergate, Dundee, DD1 4HN
TEL: 01382 384910
MOBILE: 07800 581902
EMAIL: r.Isles@dundee.ac.uk