IED students commissioned to create Commonwealth installations
Published On Mon 31 Mar 2014 by Grant Hill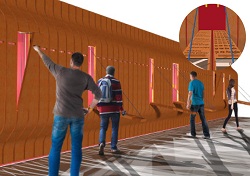 Two Interior Environmental Design students from Duncan of Jordanstone College of Art and Design (DJCAD) have been commissioned to create work for this summer's Commonwealth Games in Glasgow.
Craig Gilroy and Jordan Muir, who are both in the final year of the IED degree programme at DJCAD, will create installations for the Athletes Village at the Glasgow 2014 Commonwealth Games. They were chosen after responding to a national brief the games team circulated last September.
Craig has designed an interactive wall that aims to make the athletes feel welcome and encourage them to achieve their full potential. The structure consists of 70 vertical strips that curve out of the wall, representing each of the countries taking part in the games. The athletes can interact with each strip through a series of lights and pulleys that then reveal messages from their home country.
Jordan will create a visually entertaining 'selfie station' encouraging athletes to take pictures of themselves and connect with fans. This consists of a series of wall-mounted sculptures, each representing one of Scotland's seven cities and based on a variation of the hashtag.
Craig said, "The fact that this project is live is very nerve-racking but exciting. It allows us to use skills we already know and learn new ones quickly. Seeing the project all the way through from sketch to installation will be hugely rewarding."
Both students have also been nominated for the Game Changer Awards, which celebrate contributors from higher education sectors hoping to deliver an enduring legacy of the Games for Scotland.
Craig is designing a pavilion that will bring athletes together to meet and build relationships by providing shelter with 70 curved shapes representing each country joining together as one. Messages of encouragement from each country will be engraved into the shapes to make the athletes feel welcome.
Jordan has looked at how to take the Games to the rest of Scotland and has designed informational 'javelins' that play live audio feeds from the Games to the public and also records their responses. The recorded information would be used in a Legacy pavilion to showcase public reaction to the Games.
While both these designs exist as concepts only for the moment, Craig and Jordan hope the projects will be selected for development in the Awards.
Jordan said, "The nomination for this new award is thrilling. Win or lose, it's still putting our names out there to be seen by people who could really develop our future in the design industry and I guess that's a prize in its self."
For media enquiries contact:
Grant Hill
Press Officer
University of Dundee
Nethergate, Dundee, DD1 4HN
TEL: 01382 384768
E-MAIL: g.hill@dundee.ac.uk
MOBILE: 07854 953277