Founding editor of 2000AD to headline Comics Day
Published On Wed 22 Oct 2014 by Grant Hill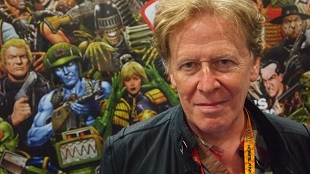 The legendary Pat Mills, often described as the godfather of British comics, will headline this year's Dundee Comics Day.
The event takes place at the University of Dundee's Tower Building on Sunday, 26th October as part of the 2014 Dundee Literary Festival. Comics Day will celebrate comics and their relationship to other media, including literature, film, television, theatre, games and the internet.
Mills began his career at DC Thomson, where he met John Wagner. Together the pair are credited with revitalising British boys comics in the 1970s, before Mills was headhunted to be the first editor of the famed 2000AD. Known as a champion of girls' and political titles, Mills' comics are notable for their violence and anti-authoritarianism.
Other leading figures from the comics industry taking part in Comics Day from 10.30am to 6.30pm include Andrzej Klimowski, Danusia Schejbal, Woodrow Phoenix and Bryan Talbot and Mary Talbot. These guests, along with several others, will sign books and sketch at the Ex Libris book fair in the Bonar Hall at 10am on Sunday, before the Comics Day talks start on the nearby Tower Building at 1pm.
"We are delighted to once again be able to present such a stellar line-up of talent from the comics industry," said Dr Chris Murray, event organiser and one of the UK's foremost authorities on the subject.
"Thanks to the internet, popular television shows and film adaptations there is a growing interest in comics and it is these intertextual and cross-media relationships that we will be looking at this year. There is something in store for all enthusiasts as well as aspiring comics writers and artists."
Comics Day will be preceded by a series of events on Saturday, 25th October, featuring a talk on Frankenstein in comics in the Bonar Hall, a workshop for under-15s and screening of the film Antboy at DCA, and a talk by John Ferguson and several artists who have created Saltire, Scotland's first superhero in the Tower Building.
Dundee is one of the great powerhouses of comics production, not just in the UK, but internationally. The publisher DC Thomson is at the heart of the city, with its long running comics, The Beano and The Dandy, and a host of beloved characters, such as Dennis the Menace, Desperate Dan, and the Bash Street Kids.
Building on this local tradition and expertise, the University of Dundee is leading the way in this emerging academic field, with modules on comics at undergraduate level and the UK's first Masters course in Comics Studies.
The Scottish Centre for Comics Studies (SCCS) is based at the University, bringing together researchers, teachers, archivists, artists and writers, industry professionals, and others involved in the promotion of Comics Studies.
Comics Day has been held annually since 2007 and has attracted some of the biggest names in the industry, including artists, historians, scholars and writers, in that time. It is designed to appeal to anyone with an interest in comics, and will be accompanied by an exhibition of comic art work. Book signings, talks and the announcement of the Dundee Comics Prize winners will also take place.
To buy tickets, please visit www.literarydundee.co.uk. Tickets are also available from Literary Dundee, 6th floor, Tower Building, University of Dundee, Tel: 01382 384413. Email: literarydundee@gmail.com.
For media enquiries contact:
Grant Hill
Press Officer
University of Dundee
Nethergate, Dundee, DD1 4HN
TEL: 01382 384768
E-MAIL: g.hill@dundee.ac.uk
MOBILE: 07854 953277