Dundee researcher's image voted winner of 'Images with Impact'
Published On Wed 26 Nov 2014 by Roddy Isles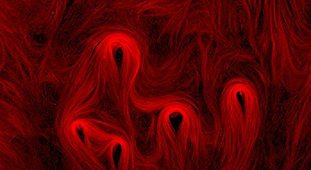 A stunning image produced by a University of Dundee researcher has been voted the winner of the 'Images with Impact' competition.
The image produced by Ian Newton, from the College of Life Sciences at Dundee, wowed visitors to the Great British Bioscience Festival. It showed microtubules but provoked comparisons with Edvard Munch's famous painting `The Scream'. It was one of eighteen shortlisted pictures on which the public were asked to vote.
"I am delighted with the result," said Ian. "The image was produced as part of an experiment thanks to excellent image facilities at the University of Dundee. The fact it bears striking similarity to a famous painting was totally coincidental. As happens at times with science, something totally unexpected appears that can be very beautiful."
Ian's striking Edvard Munch-like image presents a surprising perspective on 'Microtubules in vitro'. Microtubules are found in eukaryotic cells where they help form a cell's cytoskeleton. Amongst other roles they also play a part in cell division.
The Images with Impact competition was organised by the Biotechnology and Biological Sciences Research Council (BBSRC) and sought the best photos that represent how life sciences are changing the world, in areas like food, farming, bioenergy, biotech, industry and health.
Professor Jackie Hunter, BBSRC Chief Executive, said"The wonderful, thought-provoking pictures received through our Images with Impact competition demonstrate the beauty of bioscience, which we have been celebrating in our 20th anniversary year. The competition has proven to be a brilliant opportunity to showcase to the public, interesting perspectives on the range of world-leading bioscience BBSRC funds in the UK."
Notes to editors:
About BBSRC
The Biotechnology and Biological Sciences Research Council (BBSRC) invests in world-class bioscience research and training on behalf of the UK public. Our aim is to further scientific knowledge, to promote economic growth, wealth and job creation and to improve quality of life in the UK and beyond.
Funded by Government, BBSRC invested over £484M in world-class bioscience in 2013-14. We support research and training in universities and strategically funded institutes. BBSRC research and the people we fund are helping society to meet major challenges, including food security, green energy and healthier, longer lives. Our investments underpin important UK economic sectors, such as farming, food, industrial biotechnology and pharmaceuticals.
For more information about BBSRC, our science and our impact see: http://www.bbsrc.ac.uk
For more information about BBSRC strategically funded institutes see: http://www.bbsrc.ac.uk/institutes
Roddy Isles
Head of Press
TEL: 01382 384910
MOBILE: 07800 581902
E-MAIL: r.isles@dundee.ac.uk