Dundee Developer day to tackle `big data'
Published On Thu 27 Nov 2014 by Roddy Isles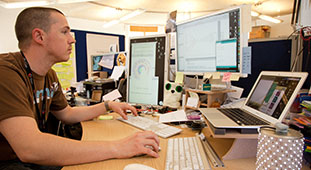 Computing power means more data is now being generated in one year than has ever been collected before, including everything from social media to massive scientific experiments.
But how can we set about making the best use of this mass of data? How can it be stored, analysed and accessed? Those are the questions which over 100 computing experts from across the UK and Europe will be addressing this weekend at a Dundee Developer day hosted by the School of Computing at the University of Dundee.
"This idea of big data is dominating a lot of thinking around computing and software developer as it affects pretty much every aspect from social media to hard science," said Andy Cobley, Lecturer in the School of Computing.
"If you just think of all the data even one person has pinging around their Facebook feed it is a considerable amount of stuff that all has to be stored somewhere and accessed. And then you multiply that by hundreds of millions of people.
"Here at the University we are working with scientists in Proteomics who have experiments that are generating huge amounts of data which require specialised software just to begin to analyse the results."
Developers will also discuss, debate and share knowledge on a host of other computing topics over the course of the day from 9am to 4pm on Saturday November 29th.
The event is sponsored by a host of tech companies including Teradata, DataStax, LogicNow and AdDuplex.
Roddy Isles
Head of Press
TEL: 01382 384910
MOBILE: 07800 581902
E-MAIL: r.isles@dundee.ac.uk