Dundee and the Great War: Patriotism and Propaganda
Published On Wed 26 Nov 2014 by Roddy Isles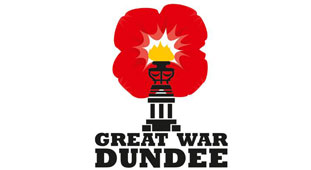 The role of the media in Dundee in promoting public patriotism and military recruitment during World War One will be explored at a Dundee Arts Café event on Tuesday December 2nd.
University of Dundee historian Dr Billy Kenefick will offer a glimpse of the febrile atmosphere which engulfed Dundee 100 years ago as war took hold in Europe.
"Dundee became a leading centre of British press patriotism and propaganda," said Dr Kenefick. "As 'war hysteria' quickly reached fever pitch the Dundee press encouraged the public to actively participate in their campaign to pillory any 'shirker' not in uniform and castigating as 'lunatics' or 'liars' any Conscientious Objectors (COs) who refused military service.
"This talk examines how the Dundee press helped promote and encourage military recruitment and public patriotism during the Great War."
Dr Kenefick is a co-founder of the Great War Dundee (GWD) Commemorative Project with his colleague Dr Derek Patrick.
The talk, which will be followed by a Q&A session, takes place in The McManus: Dundee's Art Gallery and Museum from 6pm on Tuesday December 2nd.
The event is free and all are welcome to attend. Early attendance is advised to avoid disappointment. This event is likely to last one hour.
Dundee Arts Café is a programme of talks showcasing arts research and developments taking place locally. The series is organised by the Universities of Dundee and Abertay, and Dundee City Council's Leisure & Culture department.
Dundee Arts Café events enable members of the public to relax and discuss the arts, from English to History, Philosophy to Architecture, and Fine Art to Product Design, with some of the leading names carrying out work in these areas in Dundee.
The events last one hour, and speakers talk passionately about their work for 30 minutes before the floor is opened up to an informal discussion with the audience. All talks take place in The McManus Café, Albert Square, Dundee.
Roddy Isles
Head of Press
TEL: 01382 384910
MOBILE: 07800 581902
E-MAIL: r.isles@dundee.ac.uk