Cabinet Secretary visits DUAL Access Summer School
Published On Wed 25 Jun 2014 by Grant Hill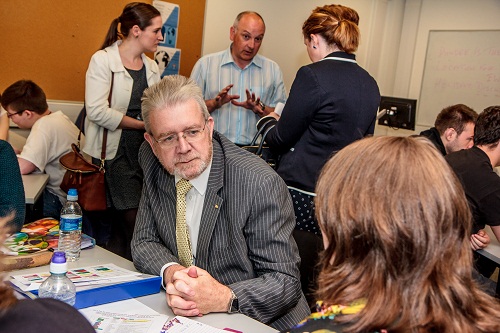 Michael Russell MSP, Cabinet Secretary for Education and Lifelong Learning, visited the University of Dundee today to see how students whose academic progress has been impacted by adversity are being offered a sector-leading route into higher education.
Mr Russell met students, staff and alumni from the University of Dundee's renowned DUAL Access Summer School to find out how the intensive 6-week programme prepares students whose personal circumstances have prevented them from attaining the required entry grades for University.
The Cabinet Secretary, who was keen to gain an understanding of how the students spend their time at the flagship Summer School, joined the class of 90+ students as they took part in a skills workshop looking at how to present conflicting evidence-based views. Mr Russell was able to use his own experiences to turn the workshop into a masterclass.
Dr John Blicharski, Access & Participation Manager and Course Director of DUAL, welcomed Mr Russell to the University, and explained how the programme continues to be a core part of the University's strategy to attract the brightest and best regardless of background.
"The visit is a wonderful tribute to the students and staff here, in schools and far beyond who have helped this course constantly evolve and prosper over the last 22 years," he said.
"We remain committed to recruiting the best students and are delighted that the programme has been recognised in this way. The continued success of these students in their subsequent study is equally humbling, as Graduation last week again demonstrated. We hope more future students will be encouraged to aspire to be part of the amazing opportunities on offer here at Dundee."
Mr Russell saw how staff from the University work to engage with potential students from all backgrounds in order to widen access to higher education. This aspect is at the heart of Dundee's Transformation ambition to become Scotland's leading university. Staff outlined the various initiatives that the University has developed to enhance the educational experience for these students as they realise their full potential.
Alumni and student helpers from the Access Summer School also shared their personal experiences of the programme with Mr Russell and explained how it helped them overcome the challenges that threatened to block their route to university.
Mr Russell said, "Just last month saw the Times Higher Education Student Experience Survey rank the student experience at Dundee amongst the top five in the whole of the UK. This is a very impressive achievement and the University's commitment to supporting students from different backgrounds into its courses has a long and successful track record.
"I was delighted to meet with current and former students of the Summer School and hear how it has given undergraduates an enviable opportunity. Programmes like these pioneered by Dundee University help remove barriers to higher education."
Since 1993, nearly 1,700 students have benefited from the University's DUAL Access Summer School, which allows potential undergraduates of all ages and stages to qualify, prepare and progress to a degree. The course has a 95 per cent completion rate - around 85 per cent of those who complete the course progress to university the same year, with only 2 per cent of them having left nearly a year on.
This year's intake of students are currently simultaneously studying four subjects each in order to demonstrate that, while their background or circumstances have prevented them from obtaining conventional entrance requirements, they possess the talent to excel at university.
For media enquiries contact:
Grant Hill
Press Officer
University of Dundee
Nethergate, Dundee, DD1 4HN
TEL: 01382 384768
E-MAIL: g.hill@dundee.ac.uk
MOBILE: 07854 953277