Booker Prize winner Eleanor Catton visits Dundee
Published On Mon 31 Mar 2014 by Grant Hill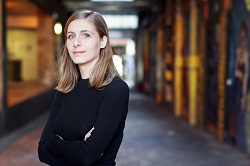 Eleanor Catton, the current holder of the Man Booker Prize, will visit Dundee this week to talk about her career and the book that has brought her worldwide acclaim.
'The Luminaries' was published by Granta in 2013 and, at 832 pages, is the longest book to win the Booker, with the author becoming the youngest ever winner of the world's most prestigious literary prize in the process.
She will be appearing at the Steps Theatre from 6pm on Thursday, 10th April at an event organised by Literary Dundee and Dundee Libraries in association with the Man Booker Prize. She will be in conversation with Peggy Hughes of Literary Dundee and talking about the incredible reaction to 'The Luminaries' and her elevation to stardom before reading from the novel and answering questions from the audience.
Peggy said, "Literary Dundee's mission is to bring the best writers in the world to Dundee, so we're thrilled that Eleanor Catton is joining us as part of her Man Booker Prize UK tour. The Luminaries is staggering - a page-turner, a keep-you-up-all-nighter - and we can't wait to hear more about the writing of it, and to warmly welcome Eleanor to Dundee."
Eleanor Catton was born in Canada in 1985 and raised in New Zealand. Her 2008 debut novel, 'The Rehearsal', was written as her Master's thesis and The Luminaries was only her second book. Set on the goldfields of New Zealand in 1866, it features multiple storylines, intricate plotting and a staggering variety of literary techniques.
Shona Donaldson, of Dundee Libraries, said, "Dundee Reading Groups shadowed the Man Booker Prize last year and are delighted to have the opportunity to hear the winner, Eleanor Catton, in Central Library."
Copies of Eleanor Catton's books will be available to buy on the night, and she will be signing copies after the talk.
The event is free and open to all, but tickets must be reserved in advance by emailing central.library@leisureandculturedundee.com or phoning 01382 431500.
For media enquiries contact:
Grant Hill
Press Officer
University of Dundee
Nethergate, Dundee, DD1 4HN
TEL: 01382 384768
E-MAIL: g.hill@dundee.ac.uk
MOBILE: 07854 953277