Academics and students to learn from pupils at Great War Schools Showcase Event
Published On Fri 5 Dec 2014 by Roddy Isles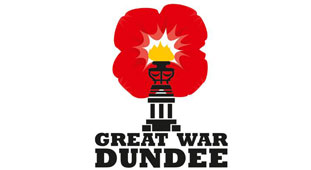 The University of Dundee will welcome school pupils from across Fife and Perthshire to present their work on the Great War at a special event on Monday December 8th, in doing so demonstrating how academics and students can learn from our youngsters.
Colleagues from the University's School of Education, Social Work and Community Education and the School of Humanities have been working with Torbain, Capshard, Markinch, Strathkinness and Ruthvenfield Primary Schools and St Andrews High School on World War 1 projects local to their villages and towns.
Dr Derek Patrick, lecturer in History and one of the founders of the Great War Dundee project, said, "Schools have taken a fairly varied approach. Ruthvenfield have been very active with research on the local area and the kids have taken a keen interest in genealogy, bringing in items such as medals and photos from home. Strathkinness were able to obtain a box of items from the local museum and I spent some time discussing primary sources. There's been a good amount of Great War themed art and writing projects with most using novels like 'War Horse'.
"Our focus has been on memorialisation and the war in a more local context, which acts as a gateway to more general themes. In general, the kids have been really engaged and have thoroughly enjoyed the topic. We look forward to welcoming them to the University to present their findings."
Mary Knight, Associate Dean in the School of Education, Social Work and Community Education, said, "This a great opportunity for the pupils to share their excellent work, visit the University and gain some insight into university life, and it also gives them an opportunity to contribute to our understanding of teaching and learning.
"We have hosted a number of similar events in the past and students and staff have commented on the knowledge and confidence of the pupils, and found the events to be of great value for their own development and understanding of learning. The pupils have demonstrated that learning is not a one way process - as academics and students we can learn a great deal from our young people.
"The collaboration between the two Schools from the College of Arts and Social Sciences has enabled academics to draw on each other's expertise, to develop a shared understanding, work effectively across disciplines and to identify and recognise how we can work together to create opportunities for working with local communities. It has also encouraged pupils, who may be our future students, to engage with the university staff and topics."
The pupils will present their work to students and staff in the University on Monday December 8th in the Dalhousie Building, from 10.15am until approximately 12 noon before taking part in a number of History related interactive workshops.
Roddy Isles
Head of Press
TEL: 01382 384910
MOBILE: 07800 581902
E-MAIL: r.isles@dundee.ac.uk