£1.13million study to discover if eye test can give early Alzheimer's warning
Published On Mon 27 Oct 2014 by Grant Hill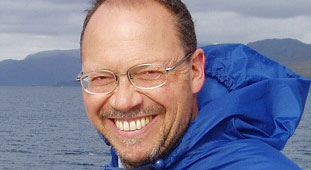 Researchers at the University of Dundee will lead a £1.13million project to help establish if an eye test can be used to reveal the early stages of Alzheimer's disease.
A substantial body of evidence already suggests that changes to the tree-shaped patterns of veins and arteries in the eye can be linked to a number of diseases, such as stroke and cardiovascular disease. Scientists will now conduct a three-year project using specially-developed computer software which analyses high-definition images of the eye from multiple instruments to establish whether such changes can act as an early indicator of Alzheimer's disease.
Emanuele Trucco, Professor of Computational Vision at the University's School of Computing, will co-ordinate the project. He said, "If you can look into someone's eyes using an inexpensive machine and discover something which may suggest a risk of developing dementia, then that's a very interesting proposition. There is the promise of early warning in a non-invasive way and there is also the fact that we even might be able to use the test to differentiate between different types of dementia."
A team from the School of Computing – working with colleagues at the University of Edinburgh – will further develop the VAMPIRE software, already specially-designed to take measurements from thousands of images efficiently. They will then cross reference the collected data with medical history information currently stored at Ninewells Hospital to see if a relationship can be established.
The Engineering and Physical Science Research Council (EPSRC) has funded the project as part an £8million investment in research at 11 UK universities. The grant will fully fund the research, including three postdoctoral research positions and a part-time nurse based at Ninewells Hospital. The study will begin in April 2015 and run for three years.
Professor Trucco said the software works by zeroing in on certain key measurements.
"The vasculature system in the retina develops in a similar way as in the rest of the body," he said. "When it's formed it makes a kind of tree. When changes occur in some parts of the body, you can see differences in the retinal vessels, e.g. in width, some vessels become thinner; some become larger; differences in the tortuosity, or how wriggly the vessels become; there are also differences in the angles when vessels split in two.
"These measurements can indicate a huge amount but to take them by hand is an extremely time-consuming, tedious process. The VAMPIRE software interface allows researchers to take these measures repeatedly, reliably, and efficiently even when working with a large number of images."
The University of Dundee team includes Professor Stephen McKenna, Chair of Computer Vision in Computing, and Dr Alex Doney, a Consultant Physician and Honorary Senior Lecturer at Ninewells Hospital and Medical School. The team at the University of Edinburgh is formed by Dr Tom MacGillivray (Clinical Research Imaging Centre), Professor Joanna Wardlaw and Dr Fergus Doubal (Neuroimaging), Professor Bal Dhillon (ophthalmology) and Professor Ian Deary (Cognitive Ageing). The University of Genova, Italy, is an external collaborator.
The project builds on the success of the ongoing VAMPIRE (Vessel Assessment and Measurement Platform for images of the Retina), an ongoing joint initiative between Dundee and Edinburgh, which is developing software to help ascertain how changes in the vasculature of the eye may be linked to stroke, cardiovascular disease and genetics.
Professor Philip Nelson, EPSRC's Chief Executive, said, "The UK faces a huge challenge over the coming decades, we have an aging population and a likely rise in the numbers of people suffering from dementias. These research projects will improve our abilities to detect and understand dementias and how the disease progresses.
"The development of new healthcare technologies and improved clinical care are being made possible by advances in engineering, physical sciences and mathematics and we must continue to support these fields to improve the quality of life of our population."
Notes to Editors:
The Engineering and Physical Sciences Research Council (EPSRC) is the UK's main agency for funding research in engineering and physical sciences. EPSRC invests around £800m a year in research and postgraduate training, to help the nation handle the next generation of technological change. The areas covered range from information technology to structural engineering, and mathematics to materials science. This research forms the basis for future economic development in the UK and improvements for everyone's health, lifestyle and culture. EPSRC works alongside other Research Councils with responsibility for other areas of research. The Research Councils work collectively on issues of common concern via Research Councils UK.
For media enquiries contact:
Grant Hill
Press Officer
University of Dundee
Nethergate, Dundee, DD1 4HN
TEL: 01382 384768
E-MAIL: g.hill@dundee.ac.uk
MOBILE: 07854 953277