Archived exhibition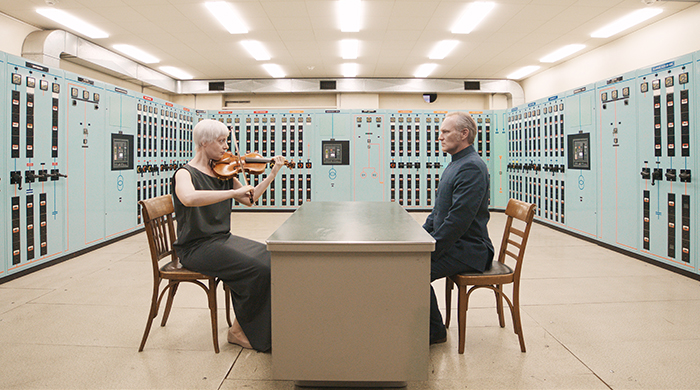 Jasmina Cibic | The Pleasure of Expense
Date: 18 October 2019 - 14 December 2019
Gallery: Cooper Gallery
Jasmina Cibic
The Pleasure of Expense
18 October – 14 December 2019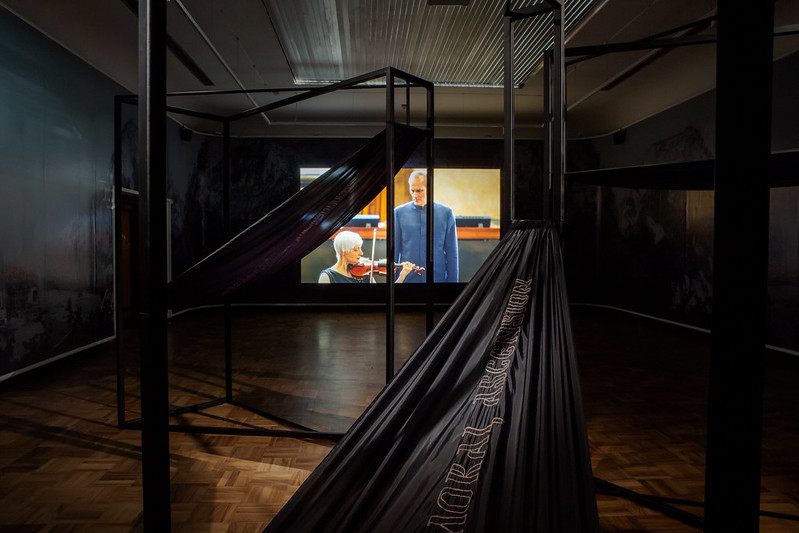 Photography by Sally Jubb.


Exhibition Reviews
Ken Neil MAP Magazine
Chris Sharratt Frieze Magazine


Cooper Gallery is proud to present The Pleasure of Expense, a major solo exhibition of new works by award-winning Slovenian artist Jasmina Cibic, internationally lauded since representing Slovenia at the 55th Venice Biennial (2013). Visually evocative and critically engaged, the exhibition at Cooper Gallery choreographs film, sculpture, photography, textile, performance and archives into a provocative mediation on the aesthetics and gestures underscoring contemporary politics and international relations.
With 2019 marking one hundred years since the founding of the League of Nations and haunted by the uncertainties of Brexit and concurrent shifts in global power, The Pleasure of Expense is a timely dissection of statecraft and the strategy of the political gift. As a tactic of soft power, the gifting of artistic, architectural, political or philosophical works to ideological structures is essentially a tokenistic act. Entangling governments and citizens in a deliberate instrumentalising of culture for political benefit, the economy of gifting offers an enticing spectacle of benevolent solidarity.
Composed of a newly commissioned gallery-specific filmic installation, a live performance, existing works and archival material, The Pleasure of Expense and its Event Series, subtlety decodes the apparatus and appearance of the nation state to open alternatives to the existing regime of political and aesthetic possibility.
The visual touchstone of the exhibition is an immersive photographic mural of a fictitious politicised landscape. Projected onto this assemblage Cibic's new film The Gift: Act II, conjures the architectural space of the Palace of Nations in Geneva (home to the League of Nations 1929-1938), whose interior was comprised of gifts from member states.
Replete with the appropriate pomp and circumstance The Pleasure of Expense will raise its curtain at the exhibition preview with an all-female operatic ensemble. Bringing the gifting of culture centre stage, the ensemble will sing excerpts of political speeches made during key moments of social crisis in the 20th century. Sung whilst reclining on hammocks embroidered with political slogans and suspended from three metal sculptures, the new performance brings state power, modernist architecture and the disciplined body into a single spectacle.
The new commissions are accompanied by Cibic's earlier explorations of soft power in her 2015 film Spielaraum: Tear Down and Rebuild and 2018 film States of Illusion which interrogate the socio-political web of relationships in culture and the immanent power structure of society. The exhibition will also be contextualised with archival material the artist examined during her research at The Espace Niemeyer Archive (Paris), League of Nations Archive (United Nations Library, Geneva), Archive of Yugoslavia (Belgrade), Landesarchiv (Berlin) and Archivio di Stato (Rome).
Expanded by an Event Series that includes Brechtian theatre workshops and feminist reading groups the exhibition will culminate in an international symposium, the 12-Hour Non-State Parade. Setting in motion a creative and critical mass of practitioners from contemporary art, critical theory and social activism, The Pleasure of Expense will found a shared imaginary that unpacks, subverts and proclaims an alternative to the hegemonic cultural spectacle embodied by the state.

Download the The Pleasure of Expense exhibition handout.

*

Event Series

Artist Salon
Tuesday 15 October 2019, 12–1pm

Artist Talk
Wednesday 16 October 2019, 12noon

Preview & Performance
Thursday 17 October, 5.30–7.30pm

Outwith Reading Group
Led by Hussein Mitha
Tuesday 22 October 2019, 5.30–7.30pm

REHEARSALS FOR THE REVOLUTION
Theatre workshops with John McCann
Tuesday 29 October, 5.30–8pm
Tuesday 19 November, 5.30–8pm

Double Her: The Female Body as Political Image
Workshop with Catherine Spencer
Wednesday 6 November, 5.30–7.30pm

SCRIEVE
Thursday 14 November, 6.30–8pm
Thursday 5 December, 6.30–8pm

12 Hour Non-State Parade
International Symposium
Saturday 30 November, 11am–11pm

*
Artist Biography
Jasmina Cibic (b. Ljubljana 1979) is a London based artist who works in performance, installation and film, employing a range of activity, media and theatrical tactics to redefine or reconsider a specific ideological formation and its framing devices such as art and architecture. Her work draws a parallel between the construction of national culture and its use value for political aims, encouraging the viewer to consider the timelessness of psychological and soft power mechanisms that authoritarian structures utilise in their own reinsertion and reinvention.
Jasmina represented Slovenia at the 55th Venice Biennial with her project For Our Economy and Culture.
Her recent exhibitions include solo shows at: Phi Foundation Montreal; BALTIC Centre for Contemporary Art Gateshead; Museum Haus Esters Krefeld; Aarhus 2017; Esker Foundation Calgary; Museum of Contemporary Art Zagreb; Museum of Contemporary Art Belgrade; Museum of Contemporary Art Vojvodina; MGLC Ljubljana and Ludwig Museum Budapest along with group exhibitions at: MOMA NY; MUMA Monash Museum; CCS BARD; Guangdong Museum of Art China; Pera Museum Istanbul; La Panacee Montpellier; City Gallery Wellington; MSUM Ljubljana; MNHA Luxembourg; Joanneum Museum Graz; and California College of the Arts.

Cibic's films have been screened at: FIAC Paris; Pula Film Festival; HKW Berlin; CCA Laznia; Les Rencontres Internationales Paris; Dokfest Kassel; and Copenhagen International Documentary Festival. Cibic has been shortlisted for the Jarman Award (2018) and was the winner of the MAC International Ulster Bank and Charlottenborg Fonden awards (2016). Her upcoming exhibitions include Steirischer Herbst '19 and solo shows at CCA Glasgow and macLyon.
Cibic's recent monograph Spielraum is published by BALTIC and Distanz and NADA by Kerber Verlag and Kunstmuseen Krefeld.
*

Venue Information

Address
Duncan of Jordanstone College of Art & Design
University of Dundee
13 Perth Road
Dundee DD1 4HT
The gallery is on two floors. First floor has ramped access and disabled toilet.
Second floor is accessible via lift and for wheelchair access via a stairclimber.
Large print versions of the exhibition information handout are available, please ask our Guides.

For access enquiries please contact exhibitions@dundee.ac.uk

Opening hours
Monday – Friday: 10am – 5pm
Saturday: 11am – 5pm
Sunday: Closed

____________________
Credits

The Pleasure of Expense, a film installation with live performance commissioned by Cooper Gallery - Duncan of Jordanstone College of Art & Design - University of Dundee.
The Gift, Act II (2019), (part of the exhibition The Pleasure of Expense) single channel HD video.
Co-commissioned by Film London Artists' Moving Image Network, steirischer herbst '19 and macLYON.
Co-produced by FLAMIN Productions through Film London Artists' Moving Image Network with funding from Arts Council England, steirischer herbst '19, macLYON and Waddington Studios London.
Supported by Cooper Gallery - Duncan of Jordanstone College of Art & Design - University of Dundee, Northern Film School - Leeds Beckett University, UGM Maribor Art Gallery, Museum of Yugoslavia, United Nations Geneva, Espace Niemeyer.
Curatorial advisors: Matthieu Lelièvre, Alessandro Vincentelli.




*
Image credits: Jasmina Cibic, The Gift, Act II, 2019. Single channel HD video (still). Courtesy of the artist.

*
Funding support
The Pleasure of Expense at Cooper Gallery, DJCAD is supported by the National Lottery through Creative Scotland.

‌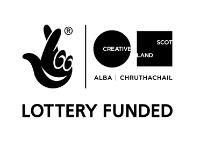 ‌‌