Workshop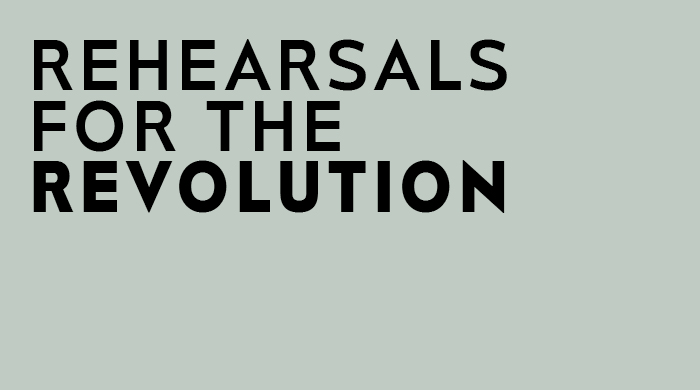 REHEARSALS FOR THE REVOLUTION
Date: 29 October 2019 - 19 November 2019
Gallery: Cooper Gallery
REHEARSALS FOR THE REVOLUTION
Theatre workshops with John McCann
Tuesday 29 October, 5.30–8pm
Tuesday 19 November, 5.30–8pm


To coincide with Jasmina Cibic's solo exhibition The Pleasure of Expense, playwright and actor John McCann leads two participatory theatre workshops at Cooper Galley that will explore the enduring power of theatre and performance as crucial means of protest. At a time when words and gestures are increasingly challenged, manipulated and devalued and when even the smallest gesture has the capacity to be utterly revolutionary it's time to ask yourself 'How will I act?'.
The theatre itself is not revolutionary: it is a rehearsal for the revolution.
Augusto Boal

Workshop is free and no prior experience is required to participate.

To book a place please email exhibitions@dundee.ac.uk with your full name and which or both workshops you wish to participate in.

Welcome, tea & coffee, and exhibition viewing from 5.30pm, workshop starts at 6pm.


Workshop leader Biography

John McCann is a two-time Scotsman Fringe First winning playwright (SPOILING, Traverse Theatre 2014 and DUPed, Ambergris 2018). Originally from Portadown in County Armagh, he now lives in Tayport, Fife. Before moving to Scotland in 2008 he was Outreach Director with Tinderbox Theatre Company in Belfast. As a writer his professional productions include THE CLEANROOM (Dir. Michael Duke, Tinderbox Theatre Company 2010); SPOILING (Dir. Orla O'Loughlin, Traverse Theatre 2014); COMET (Dir. Anna Newell, Replay Theatre Company 2014); FAMLA (Dir. Patrick O'Reilly, Tinderbox, 2017); DANCING AT THE DISCO AT THE END OF THE WORLD (Dir. Janice Kernoghan, Replay Theatre Company 2016); DUPed (Dir. Erasmus Mackenna, Ambergris 2018) and COME OUT FROM AMONG THEM (Dir. Erasmus Mackenna, Ambergris 2019).

____________________
Venue Information

Address
Cooper Gallery
Duncan of Jordanstone College of Art & Design
University of Dundee
13 Perth Road
Dundee DD1 4HT
The gallery is on two floors. First floor has ramped access and disabled toilet.
Second floor is accessible via lift and for wheelchair access via a stairclimber.
Large print versions of the exhibition information handout are available, please ask our Guides.

For access enquiries please contact exhibitions@dundee.ac.uk


*
The Pleasure of Expense at Cooper Gallery, DJCAD is supported by the National Lottery through Creative Scotland.