Reading Group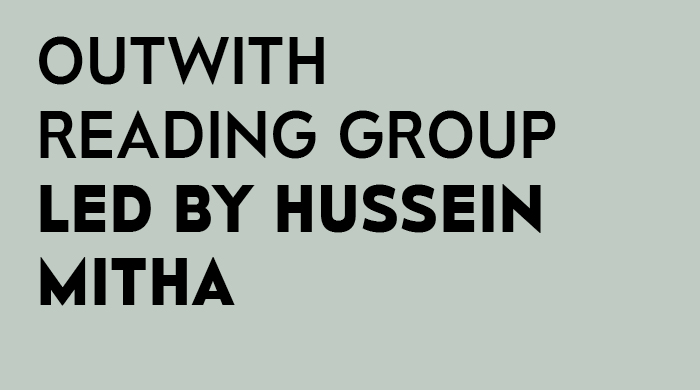 Outwith Reading Group | Led by Hussein Mitha
Date: 22 October 2019 - 22 October 2019
Gallery: Cooper Gallery
Outwith Reading Group
Led by Hussein Mitha
Tuesday 22 October, 5.30–7.30pm
Cooper Gallery

As part of the Event Series for The Pleasure of Expense, researcher Hussein Mitha leads a discursive reading group session.
Based on the experience of the childrens' theatre groups run by the Latvian Bolshevik practitioner and associate of Brecht, Asja Lācis (1891-1979), the German-Jewish critic Walter Benjamin wrote a text, Program for a Proletarian Childrens's Theatre (1928). This text radically undermines the main premises of a 'bourgeois' education system—the one that we know today—and looks to ways in which children's education (the site of which, for Benjamin and Lācis, is the theatre) can be a site for class consciousness and a liberatory multi-sensory education.
This reading group will read through the text by Benjamin, looking in detail at his 'programme' and discussing its meaning today, as well as thinking about the notion of anti-colonial education, which Benjamin's text gestures towards. Esther Leslie's text, also included here, Colonial and communist pedagogy, provides a useful introduction to the issues and to Benjamin and Lācis's work.

Art is not an end in itself, yet it helps to achieve the ultimate goals of humankind. In this sense, art and socialism have to walk hand in hand.
– Asja Lācis


Sign-up
The Reading group is free and open to all. Places can be booked by emailing exhibitions@dundee.ac.uk
After signing-up you will receive the texts in advance by by email. Print copies can also be requested.

Participants are welcome to read the texts beforehand, but no prior reading is required whatsoever. We will read through Benjamin's text as a group and then continue to an open discussion.

Biography
Hussein Mitha (they/he) is an artist and independent researcher based in Glasgow whose work centres around decolonisation, the western enlightenment and political aesthetics. Recent projects include Correspondences a sound and light installation at Hospitalfield House with Susannah Stark featuring a fantasy trial of Isaac Newton (2019); a collaborative mural with Christian Noelle Charles at David Dale Gallery (2019); and a series of vinyl decals based on clauses from the communist manifesto (2018). They help to run Rattle Library, a resource for radical literature at Glasgow Autonomous Space.
____________________
Venue Information

Address
Cooper Gallery
Duncan of Jordanstone College of Art & Design
University of Dundee
13 Perth Road
Dundee DD1 4HT
The gallery is on two floors. First floor has ramped access and disabled toilet.
Second floor is accessible via lift and for wheelchair access via a stairclimber.
Large print versions of the exhibition information handout are available, please ask our Guides.

For access enquiries please contact exhibitions@dundee.ac.uk


*
The Pleasure of Expense at Cooper Gallery, DJCAD is supported by the National Lottery through Creative Scotland.