Artist's Salon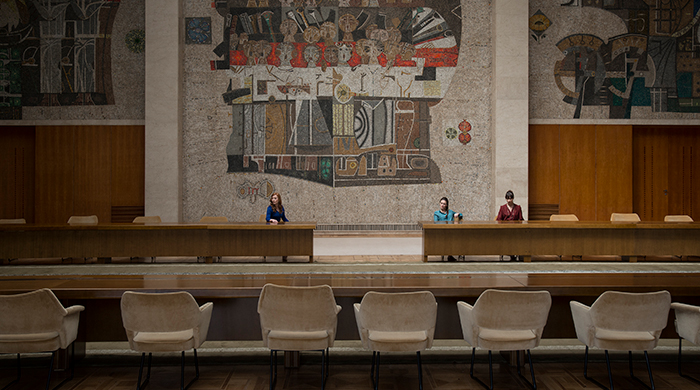 Jasmina Cibic | Artist Salon
Date: 15 October 2019 - 15 October 2019
Gallery: Cooper Gallery
Jasmina Cibic | Artist's Salon
Tuesday 15 October, 12–1pm
Cooper Gallery

Artist Jasmina Cibic is in the gallery ahead of her exhibition The Pleasure of Expense. During the installation process Jasmina is holding an artist's salon where audiences can view the installation in progress, speak with the artist about her work, gaining a unique insight behind the scenes of the project before the curtain is raised at the Preview and Performance on Thursday 17 October, 5.30–7.30pm.

The event is free, unticketed and open to all.
____________________
Venue Information

Address
Duncan of Jordanstone College of Art & Design
University of Dundee
13 Perth Road
Dundee DD1 4HT
The gallery is on two floors. First floor has ramped access and disabled toilet.
Second floor is accessible via lift and for wheelchair access via a stairclimber.
Large print versions of the exhibition information handout are available, please ask our Guides.

For access enquiries please contact exhibitions@dundee.ac.uk
____________________
*
Image credit: Jasmina Cibic, Tear Down and Rebuild, 2015. Single channel HD video, production still. Courtesy of the artist.


*
Funding support
The Pleasure of Expense at Cooper Gallery, DJCAD is supported by the National Lottery through Creative Scotland.