Symposium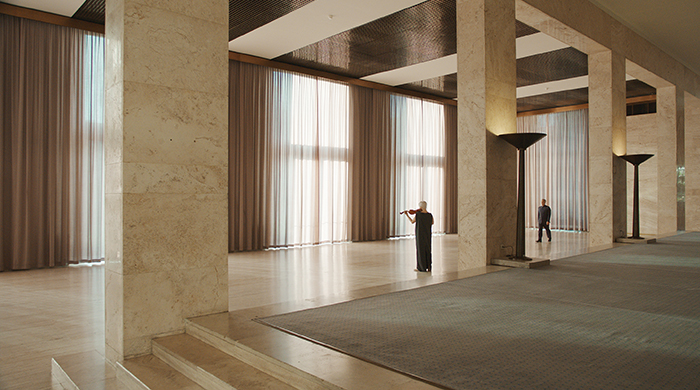 12 Hour Non-State Parade | International Symposium
Date: 30 November 2019 - 30 November 2019
Gallery: Cooper Gallery
12-Hour Non-State Parade
International Symposium
Saturday 30 November, 11am–11pm
Registeration from 10.30am

Free tickets available to book via Eventbrite (booking closed)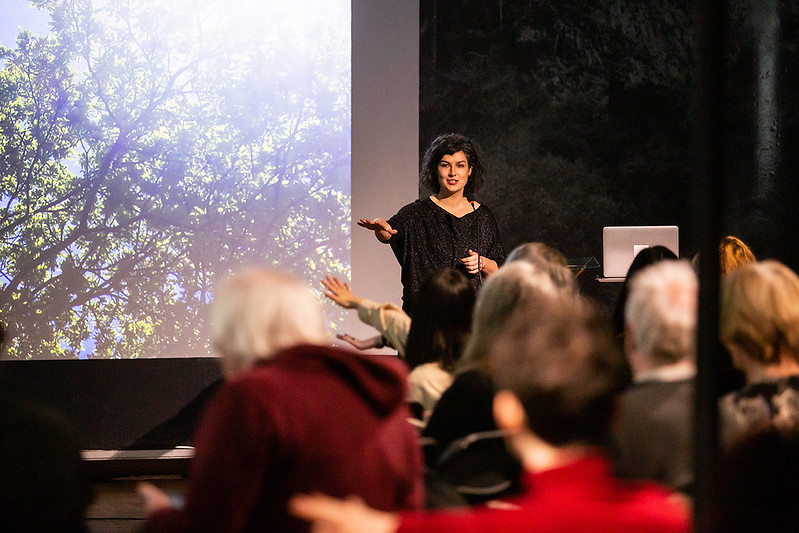 Photos by Sally Jubb.
Read Angeliki Roussou's Symposium report for MAP Magazine.

"Communities are to be distinguished, not by their falsity or genuineness, but in the style in which they are imagined".
– Benedict Anderson, Imagined Communities, 1983.
Standing still and tall above us, the contemporary state is a fiction groomed on pomp, circumstance and coercion. Surging forth with unrestrained desire the 12-Hour Non-State Parade will set forth an alternative imaginary in which the hidden powers and style sheet of the contemporary state and its expression as social relations will be unpacked, subverted and redressed.
Resounding with passionate calls for action, the 12-Hour Non-State Parade will proclaim alternatives and set in motion a creative and critical mass of national and international practitioners from the arts, theory and social activism. Indicated by but not limited to the ideologies circulating in Jasmina Cibic's exhibition The Pleasure of Expense at Cooper Gallery, the 12-Hour Non-State Parade will be led by Keynote Talks from Birgitta Jónsdóttir (Poetician and a former parliamentarian for the Civic Movement & Pirate Party in the Icelandic Parliament), Pinar Aksu (Human Rights Activist and & Theatre of the Oppressed practitioner) and Dr Rebecca Gordon-Nesbitt (Researcher, author of To Defend the Revolution is to Defend Culture: The Cultural Policy of the Cuban Revolution and the Labour Party's parliamentary candidate for South Thanet). Steering the flow of the Parade is our Navigator, Angela Dimitrakaki (Marxist feminist scholar and novelist).
Choreographed as a performative think tank immersed in debate and exchange the 12 hours will include among its urgent words a crowd of contributions from story tellers, dancers, playwrights, writers, poets, film makers, a feminist blogger and an international women's community choir. This eventful parade will be punctuated with annotations by one of the most radical thinkers of our time, French philosopher Alain Badiou.
Confirmed contributors include: Esa Aldegheri, Jasmina Cibic, Claire Heuchan, Rosie McDonald, Lucy Parker, Frank Ruda, Elisabeth Schilling, The Joyous Choir,writers from GSA MLitt Art Writing and SCRIEVE. Two newly commissioned performances will be presented during the 12-Hour Non-State Parade by artists Gordon Douglas and Shona Macnaughton, in addition to screening of video works by Noor Afshan Mirza and Brad Butler and William Raban.
"Power is actualised only where word and deed have not parted company, where words are not empty and deeds not brutal, where words are not used to veil intentions but to disclose realities, and deeds are not used to violate and destroy but to establish relations and create new realities".
– Hannah Arendt, The Human Condition, 1958

Download the Symposium Handout


Video documentation by Rob Page.

____________________
Venue Information

Tickets
Free tickets available to book via Eventbrite.

Travel
Glasgow — Dundee, Saturday 30 November
Tickets can be booked via CCA Glasgow's website.
Bus Schedule:

Outbound
Depart: CCA Glasgow, 0900
Arrive: Cooper Gallery, DJCAD, 1045

Return
Depart: Cooper Gallery, DJCAD, 2300
Arrive: CCA Glasgow, 00:30

Transport between CCA Glasgow and Cooper Gallery Dundee for the 12-Hour Non-State Parade has been made possible with support from CCA, as part of the parallel programme in both venues featuring works by Jasmina Cibic this Autumn.
Address
Duncan of Jordanstone College of Art & Design
University of Dundee
13 Perth Road
Dundee DD1 4HT

Refreshments
During the Symposium refreshments will be provided as well as a vegan/vegetarian lunch and evening meal.
* Please inform us on any allergies by emailing exhibitions@dundee.ac.uk

Access
The gallery is on two floors with the Symposium taking place on both levels.First floor has ramped access and disabled toilet. Second floor is accessible via lift and for wheelchair access via a stair climber. Large print versions of the exhibition information handout are available, please ask our Guides.
For access enquiries please contact us by emailing: exhibitions@dundee.ac.uk
____________________


Schedule

10.30am Registration

Announcement sung by Rosie McDonald

11am Symposium Starts

A story — Esa Aldegheri (10mins)
Welcome & Introduction by Gordon Douglas as Master of Ceremonies
Keynote — Birgitta Jónsdóttir (30mins)
Provocation — Angela Dimitrakaki (5mins)
Readings — Laura Edbrook, Maria Howard and Adrien Howard (15mins)
A film — William Raban (15mins)
Provocation — Angela Dimitrakaki (5mins)
Dance Performance — Elisabeth Schilling (5mins)
1.30pm Lunch break (60mins)

Talk — Jasmina Cibic (15mins)
Keynote — Pinar Asku (15mins)
Theatre of the Oppressed Workshop | Workshop sign-up at registration desk (45mins)
or exhibition viewing (45mins)
Readings ­— Sara O'Brien, Jessica Higgins, Siuán Ní Dhochartaigh and Megan Rudden (15mins)
Talk — Claire Heuchan (15mins)
Keynote —Dr Rebecca Gordon-Nesbitt (15mins)
Provocation — Angela Dimitrakaki (5mins)
Singing — The Joyous Choir (10mins)
Dance Performance — Elisabeth Schilling (10mins)

5.45pm Refreshments (20mins)

Readings —Misa Brzezicki and Timothea Armour (5mins)
Roundtable Discussion — Pinar Asku, Jasmina Cibic, Birgitta Jónsdóttir, chaired by Angel Dimitrakaki (60mins)
Performance — Shona Macnaughton (15mins)
7.30pm Dinner break & drinks (45mins)

Performance — SCRIEVE (10mins)
Blacklisting: Film & Talk — Lucy Parker, Blacklisting campaigners Jake McLeod and Stuart Merchant (40mins)

9.30pm A mulled wine break (20mins)

Dance Performance — Elisabeth Schilling (5mins)
Readings — Camille Cornu, Alice Wadkin, Lorna Ough and Jen Martin (15mins)
Film —Noor Afshan Mirza & Brad Butler (45mins)
11pm Ends
Ongoing performance — Gordon Douglas
Parade Announcements — Sung by Rosie McDonald
Parade Annotations — Alain Badiou selected by Frank Ruda
____________________
Keynote Contributors' Biographies
Pinar Aksu is a Human Rights Activist and works with Maryhill Integration Network as a Development Officer in Glasgow, and with Active Inquiry using Theatre of the Oppressed methods. She has been involved with asylum and refugee rights since a young age. She is involved and a committee member at the Right to Remain; Glasgow Campaign to Welcome Refugees; Stand Up to Racism Scotland and with Active Inquiry and World Spirit Theatre using Theatre of the Oppressed methods.

Having worked for more than a decade as a curator of international contemporary art, Dr Rebecca Gordon-Nesbitt turned her attention to exploring the individual and social value of creative practice in the UK and elsewhere. Her seven-year study of the cultural policy of the Cuban Revolution, framing the arts as a social good, was published in 2015. A selection of other writing is available at https://shiftyparadigms.wordpress.com/. As part of the Arts and Humanities Research Council Cultural Value Project, Rebecca analysed research that seemed to suggest a relationship between arts engagement and longer lives lived better. From a base at King's College London, she researched and drafted a substantial report for the All-Party Parliamentary Group on Arts, Health and Wellbeing, published in 2017, which looks at some of the ways in which arts engagement can improve our physical and mental health. Her latest report, commissioned by the Baring Foundation, charts a decade of progress in the field of creative ageing. In October 2019, Rebecca was reselected as the Labour Party's parliamentary candidate for South Thanet.

Birgitta Jónsdóttir is a Poetician and a former parliamentarian for the Civic Movement & Pirate Party in the Icelandic Parliament & chairman for IMMI (International Modern Media Institute). Birgitta helped create two political movements since 2009, the Civic Movement and the Pirate Party 2013, both parties were successfully elected into the Icelandic Parliament. She is currently working as a fellow at Internet Archive in collaboration with the EFF. She specializes is 21st century lawmaking with focus on direct democracy, freedom of expression, information and digital privacy within the local and global context. Birgitta is long time activist for Earth, against War, for Tibet and for Digital Rights. She was a WikiLeaks volunteer and spokes person in 2010. She played a crucial role in WikiLeaks release of the Collateral Murder. She was the youngest poet to be published in poetry collection for students and her first book of poetry was published by Icelands' leading publisher. Birgitta has also published her own chapbooks and poetry posters, global anthologies and chapbooks by poets from around the world. She believes individuals can and should change the world.


Navigator Biography

Angela Dimitrakaki is Senior Lecturer in Contemporary Art History and Theory at Edinburgh University where she also directs the MSc Modern and Contemporary Art. As a Marxist feminist scholar, she has authored articles, essays and books on subjects such as globalisation, labour, gender, social reproduction, democracy, anti-fascism, and the art institution. Her latest book, co-edited (with K. Lloyd) is ECONOMY: Art, Production and the Subject in the 21st Century (2015) while she co-edited (with H. Weeks) the special issue on Anti-fascism/Art/Theory for Third Text in 2019. She is a Corresponding Editor of Historical Materialism and a co-organiser of the Marxist feminist stream for the journal's annual London conference. Angela is also a novelist, writing in her native Greek, having most recently been honored with an Academy of Athens award. She is currently working on a book titled Feminism, Art, Capitalism. She lives in Edinburgh and Athens.


Commissioned Performance Artists' Biographies
Gordon Douglas is a performance artist who is primarily interested in the processes, social structures, and futures of organisations. He frequently works in close dialogue with arts and educational institutions towards devising embedded positions that investigate the performativity and maintenance of collaborative practice. From these positions, he attempts to redirect existing institutional systems to generate byproducts, performance events and games that require the negotiation of support and fostering of trust. Previous projects include: An Opposites Programme (CCA Glasgow, 2018-19); Black Box Take Stock (Travelling Gallery, 2018); Fizz w/o Friction (Ninewells Hospital, 2017); Habits of the Co-existent (Platform, Glasgow, 2016-17); and A Social Report (The NewBridge Project, 2016).

Shona Macnaughton (b. 1983) is an artist based in Glasgow, making performance, writing and film concerned with labour, subjectivity and the social effects of design. Shona's practice explores the political conditions around specific architectures and institutional frameworks, she responds by staging scripts and actions in which she performs different personas. Selected previous projects include: Mandatory Reconsideration, Parse Journal, Gothenburg, Sweden 2019; We Nurture, Collective, Edinburgh 2018-19; Progressive, Market Gallery, Glasgow, 2017; Arms Length Government Body, Céline, Glasgow 2016; The Universal School Girl, Dovecot Studios, Jerwood Space, London, 2016; Her work is currently on display at the Scottish National Gallery of Modern Art, Edinburgh as part of NOW: Katie Paterson, Darren Almond, Shona Macnaughton and Lucy Raven.


Contributors' Biographies
Esa Aldegheri is a multilingual writer and academic from Scotland and Italy. Her work - both poetry and prose - has been published by Granta, Gutter, the Dangerous Women project and in various anthologies, and has featured on BBC Radio 4's "Book of the Week". She is completing an ESRC-funded PhD at the University of Glasgow, researching forced migration, encounter, integration and story exchange. She is a Lead Reader for Open Book, sharing and making poetry with women from Syria in Edinburgh. She is Chair of Edinburgh City of Sanctuary, working to build a digital map of Edinburgh's places of welcome. She loves reading maps and climbing trees.

Claire Heuchan is an author and award-winning essayist who blogs as Sister Outrider. She writes for the leading lesbian media site AfterEllen.com, and co-authored What is Race? with Nikesh Shukla. Claire is currently writing Reclaiming Sisterhood, a book about intersectional feminism. Her work has been featured in collections such as To Exist is to Resist: Black Feminism in Europe and 404 Ink's bestseller, Nasty Women.
Rosie McDonald is a Scottish Soprano based in Angus, who has recently graduated from the Royal Conservatoire of Scotland. As primarily a classical singer, Rosie has performed in choirs and choruses alongside Scottish Opera, The Scottish Chamber Orchestra and The Scottish Symphony Orchestra. She also sings Folks Songs as part of her repertoire, performing in Celtic Connections (2017) as well as partaking in many Scots Song competitions.

Lucy Parker is an artist filmmaker living in London. She was the 2016 filmmaker in residence at the Berwick Film and Media Arts Festival. Her films have been screened or exhibited at festivals including Sheffield Doc Fest (2019), Open City Docs (2019) AV Festival (2018), International Film Festival Rotterdam (2018), Toronto International Film Festival (2017) South Korean New Media Festival (2017). Lucy's films are distributed by LUX Artists' Moving Image, London.
Frank Ruda is Senior Lecturer for Philosophy at the University of Dundee and has published inter alia the following books: Reading Marx (with Agon Hamza and Slavoj Zizek), Polity Press 2018; The Dash - The Other Side of Absolute Knowing (with Rebecca Comay), MIT Press 2018 and Abolishing Freedom: A Plea for A Contemporary Use of Fatalism, Nebraska University Press 2016.

Elisabeth Schilling is a dancer and choreographer who regularly dances in international productions across Europe. She has worked for over 35 choreographers and companies including: Scottish Dance Theatre, Sasha Waltz (Repertoire), Trisha Brown (Repertoire), Koen Augustijn (Les Ballet C de la B). Elisabeth has received numerous choreographic commissions at institutions including: Tate Modern, London (BMW Tate Live), Museum of Applied Art Frankfurt, Philharmonie Luxembourg and Scottish Dance Theatre Youth Dance. In addition, her work was been shown at organisations including Saatchi Gallery London, Whitechapel Gallery London, MUDAM Luxembourg, Kunstfest Weimar, Dag van de Dans Brussels, Hunterian Art Gallery Glasgow and The Place, London. Her past productions SIXFOLD (2017) and FELT (2019) have been touring through Europe with critical acclaim with together close to 100 performances in over 15 countries in both visual art and theatre spaces in Europe's capitals to its most rural areas. w: elisabethschilling.com
The Joyous Choir is an all-women choir set up in Maryhill, Glasgow and named by the choir themselves. The choir is supported by the Maryhill Integration Network which brings refugee, migrant and local communities together through art, social, cultural and educational groups and projects, offering people a chance to learn new skills, meet new people, share experiences and take part in activities to improve their lives and the life of their communities. The choir members are from a variety of different backgrounds. Most have fled war, arranged marriages or human trafficking, amongst them are migrant women without income, who are not allowed to work and also denied access to any financial support and often homeless. By singing of solidarity, friendship, freedom, dreams and hopes, the choir empowers, not simply as a therapy but more importantly as a powerful unifying collective experience that brings women from across the globe together in a spirit of unity, sisterhood and positivity.
GSA MLitt Art Writing
Contributions from the Art Writing Graduate Programme at The Glasgow School of Art by Course Director: Laura Edbrook and writers: Timothea Armour, Maria-Luisa Brzezicki, Camille Cornu, Lewis Gibb, Jessica Higgins, Adrien Howard, Maria Howard, Jennifer Martin, Siuán Ní Dhochartaigh, Sara O'Brien, Molly O'Leary, Lorna Ough, Megan Rudden and Alice Wadkin. The MLitt Art Writing is a studio-led, interdisciplinary writing programme in the School of Fine Art. Students work across forms including hybrid or lyric essay, artist bookwork and installation, performance, film and moving image.

SCRIEVE is a playwriting scratch night hosted by AMBERGRIS, an award-winning Dundee Theatre Company (Scotsman Fringe First Award for DUPed, 2018). SCRIEVE is a supportive and collaborative space where playwrights of any experience can share new work, hearing their words read aloud, often for the very first time. SCRIEVE can only operate with the generous support of many talented volunteers.

Filmmakers' Biographies

Noor AfshanMirza and Brad Butler's multi-layered practice consists of filmmaking, drawing, installation, photography, performance, publishing and curating. Their work challenges terms such as participation, collaboration, the social turn and the traditional roles of the artist as producer and the audience as recipient. Since 2009, Mirza and Butler have been developing a body of work entitled The Museum of Non Participation. The artists have repeatedly found themselves embedded in pivotal moments of change, protest, non-alignment and debate. Experiencing such spaces of contestation both directly and through the network of art institutions, Mirza and Butler negotiate these influences in video, photography, text and action. Their recent solo presentations include Artrs Mundi 6, The New Deal at Walker Art Center, Minneapolis, and The Guest of Citation at Performa 13, New York. Mirza and Butler have exhibited internationally, including at Hayward Gallery, FACT, Liverpool, Centro de Arte Dos De Mayo, Madrid, La Capella, Barcelona, Arnolfini, Bristol, and Serpentine Gallery, London. They are recipients of the 2015 Paul Hamlyn Foundation Award for Artists.

William Raban is an artist filmmaker, born 1948, Fakenham. Raban studied BA painting, Saint Martins School of Art 1971; MA (Fine Art) Reading University 1974. Manager of London Filmmakers Co-Op Workshop 1972-6. Published bi-monthly Filmmakers' Europe 1977-81. Part-time senior lecturer in Film at Saint Martin's School of Art 1976-89. Reader in Film at University of the Arts, London. Member of editorial board Vertigo film magazine.

____________________

12-Hour Non-State Parade runs in parallel to The Pleasure of Expense, a major solo exhibition of new works by award-winning Slovenian artist Jasmina Cibic, internationally lauded since representing Slovenia at the 55th Venice Biennial (2013). Visually evocative and critically engaged, the exhibition at Cooper Gallery choreographs film, sculpture, photography, textile, performance and archives into a provocative mediation on the aesthetics and gestures underscoring contemporary politics and international relations.
With 2019 marking one hundred years since the founding of the League of Nations and haunted by the uncertainties of Brexit and concurrent shifts in global power, The Pleasure of Expense is a timely dissecting of statecraft and the concept of the political gift; the donation of artistic, architectural, political or philosophical thoughts to ideological structures. Composed of a newly commissioned gallery-specific filmic installation, a live performance, existing works and archival material, the exhibition and its Event Series provide a nuanced and subtle play on the recurring politicisation of culture.
The visual touchstone of the exhibition is an immersive photographic mural of a fictitious politicised landscape. Projected onto this assemblage, Cibic's new film The Gift: Act II conjures the architectural space of the Palace of Nations in Geneva (home to the League of Nations 1929-1938), whose interior was comprised of gifts from member states.

Click here for full details on the exhibition.
*
Funding support
12-Hour Non-State Parade at Cooper Gallery, DJCAD is supported by the National Lottery through Creative Scotland.

‌