Vitamin D `not guilty' in heart disease and winter deaths
Published On Mon 22 Jun 2015 by Roddy Isles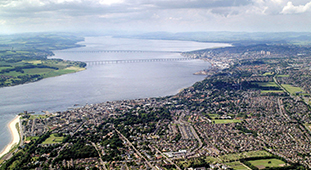 The belief that vitamin D deficiency from lack of sunshine – like childhood rickets a hundred years ago – causes increased heart disease and deaths in winter has been challenged by research from the University of Dundee.
The research, led by Emeritus Professor Hugh Tunstall-Pedoe and published in the International Journal of Epidemiology, suggests that vitamin D is not guilty and is unimportant in cardiovascular disease and winter deaths, whatever its role in other diseases.
Vitamin D was first linked with excess winter disease in 1981, the same year that the Cardiovascular Epidemiology Unit in Ninewells Hospital in Dundee was launched to study causes of the excess heart disease in Scotland. Thousands of healthy men and women agreed to have risk factors measured, blood taken for testing, and their medical records followed, in the Scottish Heart Health Study.
Recently their saved blood has been tested for vitamin D in Germany, in a Medical Research Council and European Commission-funded international project. Results were related to intervening illness and death. They show that while overall incidence of cardiovascular events did not vary seasonally, deaths from heart disease, and from other causes, did. Vitamin D levels also varied, with highest levels seen in August and lowest in March – a two-to-one difference – but crucially this was several weeks after peak winter death rates, so changes in vitamin D were too late to be the cause.
People with lower vitamin D levels did have higher rates of cardiovascular disease, but low vitamin D levels were also associated with lifestyle and other risk factors. When these were corrected for, vitamin D levels had a trivial or no additional effect. People with low vitamin D levels did not have a greater increase in winter disease rates compared to others.
Emeritus Professor Tunstall-Pedoe, who initiated and still leads the Scottish Heart Health Study, said, "This is a major study, in a population with two-to-one seasonal changes in vitamin D, and low levels overall. If vitamin D deficiency were a major cause of heart disease and death, we would have expected it to show up. But it did not. So our results seriously challenge its alleged role. We want others to explore seasonal change as we have done – a huge natural experiment which comes for free.
"All of this was made possible by the co-operation of healthy Scottish volunteers, by continuing access to their records, and by Scottish, United Kingdom, and European Commission funding at different times over many years. It benefitted from national and international collaboration."
Emeritus Professor Hugh Tunstall-Pedoe 'retired' at age 65 in 2005 but continues researching on his studies in an honorary capacity. With his statistical colleague, Mark Woodward, he developed the ASSIGN cardiovascular risk score for Scotland, launched in 2007 and based on the Scottish Heart Health Study. This incorporates the standard risk factors but also social deprivation and family history. These factors were used in this latest study in testing whether vitamin D made any additional contribution – it did not.
Professor Jeremy Pearson, Associate Medical Director at the British Heart Foundation, which part funded the research, said, "We've known for many years that a low level of vitamin D is associated with an increased risk of cardiovascular disease, but it was not clear whether lack of vitamin D directly causes the increased risk or is a consequence of other factors. The long-term Scottish Heart Health Study, which the BHF helped to fund, has provided a series of valuable insights over the years and they have now shown that that low vitamin D is result of other risk factors, rather than a cause of increased risk.
"The research team were able to use the large seasonal variation in vitamin D levels in the Scottish population in their study, which strongly supports the conclusions from other independent genetic studies."
Notes to editors:
'Prime mover or fellow traveller: 25-hydroxy vitamin D's seasonal variation, cardiovascular disease and death in the Scottish Heart Health Extended Cohort (SHHEC)' by Hugh Tunstall-Pedoe, Mark Woodward, Maria Hughes, Annie Anderson, Gwen Kennedy, Jill Belch and Kari Kuulasmaa; for the MORGAM Investigators
The International Journal of Epidemiology encourages communication among those engaged in the research, teaching, and application of epidemiology of both communicable and non-communicable disease, including research into health services and medical care. The journal is published by Oxford University Press on behalf of the International Epidemiological Association. Follow the IJE on Twitter: @IJEeditorial
Oxford Journals is a division of Oxford University Press. We publish well over 230 academic and research journals covering a broad range of subject areas, two-thirds of which are published in collaboration with learned societies and other international organizations. We have been publishing journals for more than a century, and as part of the world's oldest and largest university press, have more than 500 years of publishing expertise behind us. Follow Oxford Journals on Twitter: @OxfordJournals
The Medical Research Council is at the forefront of scientific discovery to improve human health. Founded in 1913 to tackle tuberculosis, the MRC now invests taxpayers' money in some of the best medical research in the world across every area of health. Thirty-one MRC-funded researchers have won Nobel prizes in a wide range of disciplines, and MRC scientists have been behind such diverse discoveries as vitamins, the structure of DNA and the link between smoking and cancer, as well as achievements such as pioneering the use of randomised controlled trials, the invention of MRI scanning, and the development of a group of antibodies used in the making of some of the most successful drugs ever developed. Today, MRC-funded scientists tackle some of the greatest health problems facing humanity in the 21st century, from the rising tide of chronic diseases associated with ageing to the threats posed by rapidly mutating micro-organisms. www.mrc.ac.uk
Roddy Isles
Head of Press
TEL: 01382 384910
MOBILE: 07800 581902
E-MAIL: r.isles@dundee.ac.uk