University welcomes Indian delegation
Published On Mon 27 Apr 2015 by Roddy Isles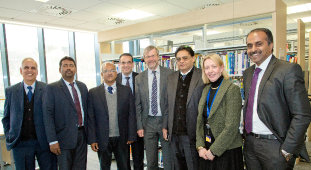 A delegation of senior representatives from one of India's premier healthcare, academic and research institutions is visiting the University of Dundee this week to explore possibilities of developing closer links between the two institutions.
The visit from Sri Balaji Vidyapeeth University (SBV) in Pondicherry follows a similar trip made to India by staff from the School of Medicine at Dundee in January.
The Indian delegation will visit facilities in Medicine, Dentistry, Nursing and the Centre for Anatomy and Human Identification over the course of their time at Dundee.
"We are delighted to welcome our visitors from SBV and look forward to exploring the development of greater links between ourselves and India," said Professor John Connell, Vice-Principal for Research and Head of the College of Medicine, Dentistry and Nursing at the University of Dundee.
"We operate on a global stage and are continually exploring opportunities for partnership and collaboration around the world, including in significant markets such as India."
Roddy Isles
Head of Press
TEL: 01382 384910
MOBILE: 07800 581902
E-MAIL: r.isles@dundee.ac.uk