University showcase for South African delegation
Published On Fri 2 Oct 2015 by Grant Hill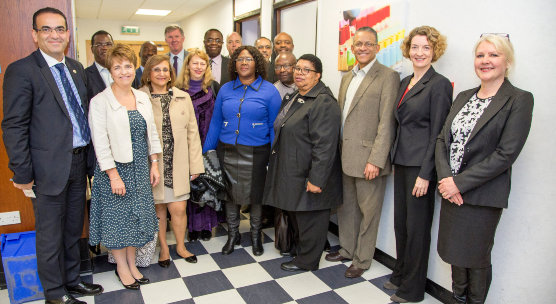 A delegation from South Africa is today visiting the University of Dundee as part of a week-long tour exploring how the Scottish higher education sector can act as a model for the development of their own universities.
The group of 16 Deputy Vice-Chancellors from South African universities are receiving a guided tour of teaching and learning facilities at the main campus and at the School of Medicine at Ninewells Hospital.
The South African HE sector has embarked on a student retention improvement project, modelled on the enhancement-led approach in Scotland. Quality Assurance Agency Scotland is hosting the visit to enable the South African institutions to establish closer links with their peer group in Scotland and also to find out more about its approach to collaborative and innovative learning spaces.
Professor Karl Leydecker, Vice-Principal (Learning & Teaching) at the University, said, "We are delighted to welcome our visitors and hope this visit will lead to greater collaborations between Scottish and South African universities in future.
"As well as touring our state-of-the-art learning and teaching facilities, they will also hear about the recent investment and developments that have seen Dundee named Scottish University of the Year and be ranked top in Scotland for student experience in the National Student Survey, Times Higher Education Student Experience Survey, and International Student Barometer."
For media enquiries contact:
Grant Hill
Press Officer
University of Dundee
Nethergate, Dundee, DD1 4HN
01382 384768
g.hill@dundee.ac.uk
MOBILE: 07854 953277