University of Dundee receives Leaders of a Living Planet Award from WWF
Published On Tue 28 Apr 2015 by Grant Hill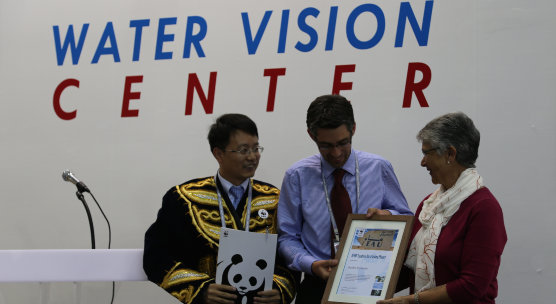 The University of Dundee has received the Leaders of a Living Planet Award from the World Wildlife Fund (WWF).
The award was made at the 7th World Water Forum in Deagu, South Korea, and recognises the contribution to conservation of the natural world and sustainable development made by the University's Centre for Water, Policy and Science. The actions of institutions and individuals recognised as Leaders for a Living Planet are intended as inspiring examples of environmental leadership and as having demonstrated responsibility to protect the environment.
Other winners of the award include Kofi Annan, the former UN Secretary-General, Ministers of Water Affairs in France, Togo and Benin, and the Vice-Premier of China.
Lifeng Li, Director of WWF International's freshwater programme, said, "We are delighted to give this award to the University of Dundee, in recognition of the leadership that the Centre for Water, Policy and Science has demonstrated in terms of international water policy. In particular, the award recognises the role that the Centre, led by Professor Patricia Wouters and Dr Alistair Rieu-Clarke, has played in promoting the UN Watercourses Convention for the sustainable management of transboundary rivers'.
Since 2006, the Centre for Water Law, Policy and Science has been working with WWF and other partners to raise awareness of the importance of the 1997 UN Watercourses Convention, and secure its entry into force. The 1997 UN Watercourses Convention sets out fundamental rules and principles by which States can cooperate over their transboundary waters in both an equitable and sustainable manner.
A key milestone in raising awareness of the Convention occurred last year when Vietnam became the 35th party to accede to the Convention, thus triggering the procedure by which the Convention entered into force on 17 August 2014. Now in force, the Convention has 36 parties – Palestine was the most recent state to join in January of this year – and there is growing interest amongst other states in joining this global framework for the peaceful and sustainable management of the world's freshwaters.
The Centre for Water Law, Policy and Science's research was also recognised in the recent UK Research Excellence Framework results, where an impact case study on international water law, and more particularly, the 1997 UN Watercourses Convention, was described as, having "demonstrated outstanding impact in terms of its research and significance".
Dr Rieu-Clarke, Reader in International Law, said, "The Centre's work on the 1997 UN Watercourses Convention reflects a major effort by numerous individuals who are passionate about international water law. Professor Patricia Wouters, the founding Director of the Centre and now with Xiamen University, China, initiated this work back in 1997.
"Since then, there has been a growing commitment to raising international law's role as a tool for resolving water conflicts. There's lots still to do, but entry into force of the Watercourses Convention, the WWF award and our research REF result, shows that we are moving in the right direction.'"
For media enquiries contact:
Grant Hill
Press Officer
University of Dundee
Nethergate, Dundee, DD1 4HN
TEL: 01382 384768
E-MAIL: g.hill@dundee.ac.uk
MOBILE: 07854 953277