'The Story of Alice: Lewis Carroll and The Secret History of Wonderland' – Saturday, 2nd May
Published On Mon 27 Apr 2015 by Grant Hill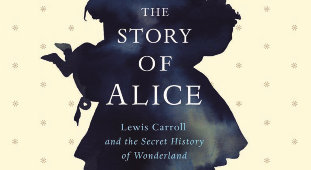 The 150th anniversary of Alice's Adventures in Wonderland, one of the world's most famous and best loved children's books, will be celebrated at the University of Dundee this Saturday.
Professor Robert Douglas Fairhurst will explore Lewis Carroll's life and his masterpiece at the next instalment of the Saturday Evening Lecture series from 6pm at the University's Dalhousie Building, Old Hawkhill. The event will be preceded by a family fun day with an Alice in Wonderland theme at the same venue from 2-4pm.
Professor Fairhurst is author of 'The Story of Alice: Lewis Carroll and The Secret History of Wonderland', widely regarded as the definitive biography of both Carroll and Alice Liddle, the daughter of a colleague who provided the inspiration for the book's eponymous heroine.
'The Story of Alice' moves from the gossipy intrigues of Victorian Oxford to the trenches of the First World War and from the backstage world of the London theatre to the early days of Hollywood. A mixture of biography and cultural history, it weaves together several strands of narrative to show how the Alice books helped to shape the lives of everyone involved in their creation.
"One of Lewis Carroll's obituaries said 'we are all Alices now, more or less'," said Professor Fairhurst. "She's become a national treasure, if that can be said of a literary character. In fact, over time she's become an international treasure. Alice's Adventures in Wonderland has been translated into more than 150 languages in the 150 years since it was published."
The fun day will feature a Mad Hatters Tea-Party table adorned with crafty activities and delicious free goodies for children while there will also be a pop-up café, face-painting, storytelling, creative writing workshops, collages, and other activities.
SELS is Scotland's oldest continuous free public lecture series and its history can be traced back to a series of lectures held jointly with the Dundee Naturalists Society beginning with a lecture by Principal John Yule Mackay on Primitive Man in October 1924.
'The Story of Alice: Lewis Carroll and The Secret History of Wonderland' takes place at the Dalhousie Building, Old Hawkhill from 6pm on Saturday, 4th April.
A book signing and drinks reception will follow the lecture. Overflow theatres may be in operation and the main lecture theatre is filled on a first come first seated basis on the night.
Free tickets are available from Tower Reception, 01382 385108, online at www.dundee.ac.uk/tickets, or by emailing events@dundee.ac.uk.
For media enquiries contact:
Grant Hill
Press Officer
University of Dundee
Nethergate, Dundee, DD1 4HN
TEL: 01382 384768
E-MAIL: g.hill@dundee.ac.uk
MOBILE: 07854 953277