`The Just War: The Morality and Ethics of Going to War'
Published On Wed 22 Apr 2015 by Roddy Isles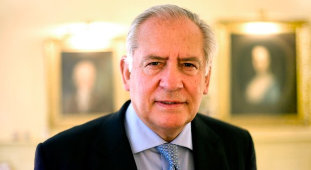 Lord Guthrie, the UK's former Chief of Defence, will return to his familial roots next week to give a public lecture at the University of Dundee on `The Just War: The Morality and Ethics of Going to War'.
Lord Charles Guthrie of Craigiebank is a Field Marshal whose military career included service with the Welsh Guards and the Special Air Service. He was closely involved in military operations in Northern Ireland and provided advice to the British Government during the Bosnian War and the Kosovo War. He was Professional Head of the British Army between 1994 and 1997 and Chief of Defence from 1997 to 2001.
He will be giving his public lecture at the University of Dundee's Dalhousie Building at 5.30pm on Tuesday April 28th. In his talk he will use examples from his own experiences of war and look at the key concepts in relation to modern armed conflict.
"Every society and every period of history has had to face the reality of war," said Lord Guthrie. "War inevitably yields situations in which the normal ethical rules of society have to be overridden. The Just War tradition has evolved over the centuries as a careful endeavour to impose moral discipline and humanity on resort to war and in its waging, and the tradition deserves our attention now as much as ever."
Lord Guthrie's family connection to Dundee goes back hundreds of years. His family owned tracts of lands in what is now the city's Craigiebank area. He is a cross bench peer in the House of Lords, raised to the peerage as Baron Guthrie of Craigiebank, in 2001.
The lecture is being organised in association with Tayforth University Officer Training Corps. During his visit to Dundee Lord Guthrie will meet some of the 200-plus members of the Tayforth Corps, who are drawn from the universities of Dundee, Abertay, St Andrews and Stirling.
The lecture is free and all are welcome. Anyone wishing to attend can register by emailing guthrieevent@dundee.ac.uk
Roddy Isles
Head of Press
TEL: 01382 384910
MOBILE: 07800 581902
E-MAIL: r.isles@dundee.ac.uk