'Talking Textiles' launches Dundee Oral History Project
Published On Fri 16 Oct 2015 by Grant Hill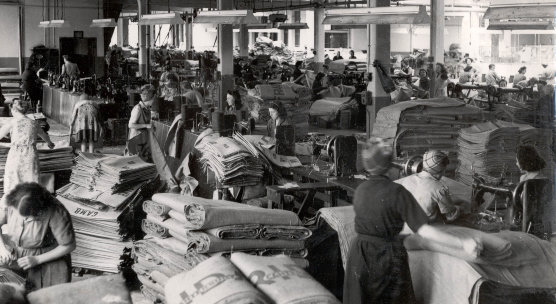 Dundee's rich history as a world-leading centre for textiles production will be explored through songs, stories and conversation at an event next week to launch the University of Dundee Archives Oral History Project.
The Oral History Project is gathering testimonies from people throughout the city to form a rich tapestry of stories which will be used to supplement the already rich collections held by the University.
"The project is a way of working with the community and ensuring the lives of people from Dundee are not forgotten. Our archive is not just a static vault, it is there to inspire and engage," said Dr Jan Merchant, Senior Archivist at the University.
"The first subject area we have looked at is textiles, and particularly jute, once such a major industry for Dundee. We hold the largest collection of jute records in Europe but they do not speak to the experience of the men and women who worked on the factory floors.
"An oral history can add that experience. We have spoken to many women and men who worked in the jute industry in the post-war period, both in Dundee and in India. What we are starting to build is a rich collection of stories, experiences and living history."
Some of that can be heard at `Talking Textiles', a launch event for the Oral History Project at the University on Wednesday October 21st.
It will feature some of the stories which have already been collected as well as songs from Sheena Wellington and the Thomson Leng Children's Choir, and a display of work from Forfar Pitstop Weaving Group.
The event takes place in the Baxter Suite of the University Tower Building, Nethergate, from 6pm to 7.30pm on Wednesday. Admission is free and all are welcome, though it is advised that it is best to call in advance to secure a place. The University Archives can be contacted on 01382 384095 or by email at archives@dundee.ac.uk
The event is the first of a planned series around the Oral History Project.
"Jute and textiles was an obvious subject to focus on initially but it is by no means the limit of what this project will cover," said Dr Merchant. "We are speaking to the young and the old, people from many different walks of life, to build an oral history of Dundee."
For media enquiries contact:
Grant Hill
Press Officer
University of Dundee
Nethergate, Dundee, DD1 4HN
Tel: +44 (0)1382 384768
Mobile: 07854 953277
Email: g.hill@dundee.ac.uk