'Symbiosis' – art exhibition explores experiences of Women in Science
Published On Thu 12 Mar 2015 by Grant Hill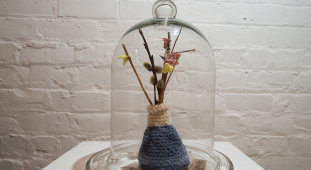 An exhibition of artwork celebrating the scientific achievements of women opens in Dundee on Friday, 13th March.
'Symbiosis' is a unique exploration of the fusion of science and art, and is taking place at Tin Roof Collective, Bellfield Street. The exhibition is led by University of Dundee students Rhoda Ellis (Duncan of Jordanstone College of Art and Design) and Nancy Giang (College of Life Sciences) and takes place as part of the Women In Science Festival 2015.
'Symbiosis' includes works inspired by the lives of historical women in science, collaborations with current scientists and the issues surrounding being a woman in science. The opening night takes place at Tin Roof from 6-9pm tomorrow and the exhibition will remain open until Tuesday 17th.
Event organiser Dr Jon Urch said, "Everyone is welcome to join us for our opening night on Friday or to pop in over the following four days. The artworks were created through a student-led project that brings early-career artists and scientists together and we are very excited to see the results."
Dundee is once again celebrating the achievements of women in Science, Technology, Engineering and Maths (STEM) with the Women in Science Festival. A total of 45 exhibitions, talks, film screenings, fun days and other events are taking place across the city in March, and the festival is supported by many of the internationally acclaimed female scientists and researchers working at institutions in Dundee.
The programme highlights the many opportunities there are for women to pursue a career in science and related subjects. It is the only festival in the world to focus on celebrating women in science and this year will present a range of film screenings, exhibitions, talks and family fun days.
For media enquiries contact:
Grant Hill
Press Officer
University of Dundee
Nethergate, Dundee, DD1 4HN
TEL: 01382 384768
E-MAIL: g.hill@dundee.ac.uk
MOBILE: 07854 953277