Sustainable Coasts' - Tay Estuary Forum Annual Conference 2015
Published On Wed 8 Apr 2015 by Grant Hill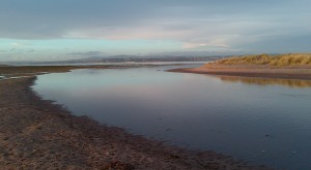 From offshore renewables developments to the launch of Scotland's first National Marine Plan, 2015 is a hugely significant year for coastal and marine management, both nationally and regionally.
With this in mind, the 2015 Tay Estuary Forum conference, taking place at the West Park Conference Centre on Friday, 24th April, will explore likely changes along the Tayside, Fife and Angus coastlines, including the inter-tidal Tay Estuary to Perth.
Attendees representing a wide range of both statutory and voluntary organisations will hear presentations on a variety of topics under the theme of Sustainable Coasts, including:
Offshore and onshore sustainable development and land use
Dundee Waterfront progress; Opportunities and challenges.
Exploring personal and cultural ties to the Tay through creative writing.
Sustainable coastal communities.
Reducing community incidents at the coast with the RNLI.
"Sustainable Coasts brings together a collaboration of scientists, policy-makers, environmental groups and artists, each year, to update and inform others about an ongoing wealth of activity along the Tay coast," said Professor Rob Duck, Chair of the Tay Estuary Forum and Dean of the School of the Environment at the University of Dundee.
2015 is the Tay Estuary Forum's 18th year of working to promote the wise and sustainable use of the Tay Estuary and adjacent coastline. The TEF Annual Conference acts as an annual platform for facilitating discussion on key issues affecting the Tay Estuary and surrounding coastline of east-central Scotland.
"The purpose of the day is to provide a platform for discussing key coastal and marine issues, amongst a diverse range of stakeholders, with a TEF regional focus," said TEF Project Officer, Dr Laura Booth.
"It offers a valuable opportunity for individuals and organisations alike, to communicate with each other, in aligning sustainable management initiatives, exploring examples of good practice and developing future aspirations for our coasts and seas."
As a voluntary Local Coastal Partnership, housed at the University of Dundee, the Tay Estuary Forum regularly communicates with coastal stakeholders, user groups and the general public on a variety of coastal and marine current issues. The TEF is part of a national network of Scottish Local Coastal Partnerships, coordinated by the Scottish Coastal Forum, helping to deliver integrated coastal management. The area covered by the TEF extends from the River North Esk on the Angus coast, to Fife Ness, including the Tay Estuary to Scone.
Registration is essential. TEF booking forms and a programme can be downloaded from the TEF website: http://www.tayestuary.org.uk/
Please contact Laura Booth (Project Officer) on 01382 384933 for more information or email TayEstuaryForum@dundee.ac.uk.
Notes to Editors:
The conference will begin at 10am (registration from 9:30am) until 4pm in the Sidlaw Suite at West Park Conference Centre, 319, Perth road, Dundee, DD2 1NN.
Directions: http://www.westpark.co.uk/.
There is a reduced fee for students.
For media enquiries contact:
Grant Hill
Press Officer
University of Dundee
Nethergate, Dundee, DD1 4HN
TEL: 01382 384768
E-MAIL: g.hill@dundee.ac.uk
MOBILE: 07854 953277