Scots sheep farmer spins out new wool business
Published On Mon 15 Jun 2015 by Roddy Isles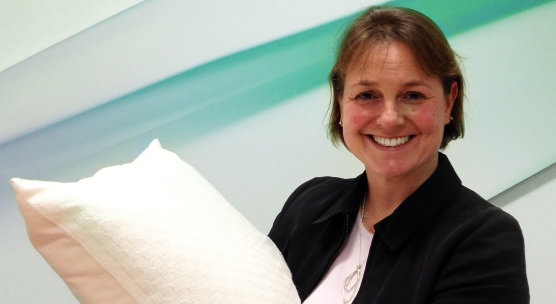 An Angus sheep farmer is launching a new business after using natural wool to create a luxury product range of cushions, pads, pillows and bedding, with the support of the University of Dundee-led Design In Action project.
Julie Hermitage will launch her new company UAN Scotland Ltd at the Royal Highland Show in Edinburgh on June 18th after being inspired to use natural wool having seen the problems suffered by her own children with asthma and missing sleep.
Design In Action has assisted Julie since she attended their Rural Chiasma event in June 2013. The project helps entrepreneurs to create new innovations through the application of the design process. The project researches the impact of design as the business develops, and furthermore, backs the emerging ideas with grant funding of £20,000.
A key part of the support the project offers sees a designer engaged throughout the development process of the product, as well as the corporate identity, labelling, packaging and branding. The project provides a creative design approach on the whole business with advice from inception to market launch.
UAN Scotland is the third new business supported to market by Design In Action.
Julie Hermitage was inspired to create her product range after witnessing her children suffer with asthma trouble and realising that the qualities of wool she was working with everyday could help potentially alleviate their symptoms and provide a restful sleep.
She uses the wool of specially selected Scottish sheep breeds. The wool has natural properties that self-regulate temperature, make it breathable, and help retain its shape, all of which significantly improves the quality of sleep. The wool is also naturally flame retardant which is key to its safe use in bedding.
"I want it to change how people think about wool as a natural fibre and demonstrate its benefits to improving sleep for all," said Julie.
"My own children showed significant improvement after we started using the wool for pillows. That inspired me to commission further research to investigate the natural antimicrobial properties within different Scottish breeds of wools."
During the testing process, one user recorded in their diary, 'I was keen to test this pillow out as sometimes I have problems with asthma when I'm in bed and wake up to use my inhaler. I have never coughed since I've had the pillow. I didn't expect it to be this good!'
UAN Scotland Ltd is currently seeking independent 'Seal of Approval' from the Allergy UK, to affirm the products' health benefits to allergy and asthma sufferers.
Julie said the Design In Action team provided valuable design advice to help her develop her ideas and her new business.
Professor Georgina Follett, Director of Design in Action, said, "UAN has built a business that meets the needs of its customers, is environmentally sensitive, and delivers a quality range of products that exemplify the capacity of Scottish businesses to innovate using the strengths of the local economy.
"UAN will add value to the economy, support other local businesses and demonstrate the vibrancy of the rural economy to innovate. All of us at Design in Action will enjoy watching UAN grow."
The launch of UAN in June will showcase the first entirely woollen pillows made in Scotland to the Royal Highland Show audience and customers will be encouraged to provide their feedback on the product. Julie plans rapid expansion in the domestic market, followed by the commercial hotel and boarding market, and then export internationally. It is anticipated that the products will be highly valued by customers for its sleep and health benefits, and that UAN will contribute to the sustainability of Scottish wool manufacture and production.
For more information on UAN Scotland Ltd see:
For more information on Design in Action see:
Notes to Editors
Design in Action is a Knowledge Exchange Hub for the Creative Economy funded by the Arts and Humanities Research Council and Creative Scotland to research, promote and create opportunities for the adoption of design as a strategy for economic growth within industry. Based primarily within Duncan of Jordanstone College of Art and Design at the University of Dundee, the project is closely-partnered with Glasgow School of Art; Edinburgh College of Art (University of Edinburgh), Gray's School of Art (Robert Gordon University) and the Universities of St Andrews and Abertay Dundee.
Design in Action to date has involved hundreds of businesses in their workshops, annual Design Summits and seminars since establishment in 2012, invested financially in 13 businesses, and although not all have as yet launched, these businesses have already created 34 jobs and turned over £2m, making a positive impact in the Scottish economy.
Roddy Isles
Head of Press
TEL: 01382 384910
MOBILE: 07800 581902
E-MAIL: r.isles@dundee.ac.uk