Roddy Doyle in conversation on 24th June
Published On Mon 15 Jun 2015 by Grant Hill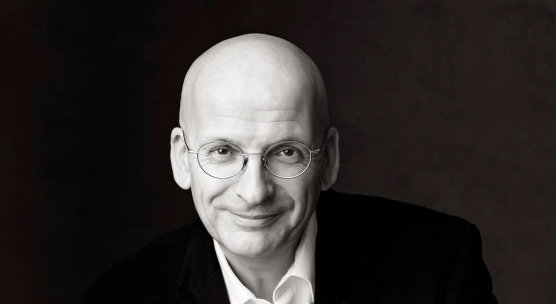 Best-selling and award-winning writer Roddy Doyle will discuss his celebrated career ahead of receiving an honorary degree from the University of Dundee next week.
Widely regarded as one of the world's foremost contemporary novelists, Doyle will deliver the Honorary Graduate lecture at the Dalhousie Building on Wednesday, 24th June. He will have the title of Doctor of Laws bestowed upon him during the University's graduation ceremony the following day.
Roddy Doyle is the author of eleven acclaimed novels, including the Barrytown Trilogy, two collections of stories, two books of dialogues and Rory & Ita, a memoir of his parents. He has written several books for children and has contributed to a variety of publications including The New Yorker, McSweeney's and several anthologies. Throughout his career he has written for the stage and screen and won the Booker Prize in 1993 for Paddy Clarke Ha Ha Ha.
He will read extracts of his work and talk about his life in books at the In Conversation event, hosted by Peggy Hughes of the University's Literary Dundee initiative.
She said, "We are very excited to be welcoming Roddy Doyle to Dundee to receive his Honorary Degree and also talk to us about his career at the very top of the literary tree. For almost 30 years he has been captivating readers with his unique, insightful, witty and warm-hearted writing and the screen adaptions of his work are equally loved.
"Roddy Doyle is one of Ireland's best-loved writers and his chronicling of working-class Dublin life, as well as his reappraisal of national myths and exploration of universal themes and issues mean he is deserving of all the accolades he has received and a good bit more."
The other nine leading figures from the worlds of literature, cinema, science and the media who will be honoured by the University are:
Brian Taylor, one of the Scotland's most respected political commentators
Seamus McGarvey, Oscar-nominated cinematographer (`Atonement' & `Anna Karenina')
Dave Gibbons, graphic novelist and artist, illustrator of the classic `Watchmen
Justin Fletcher, BAFTA-winning actor and children's television presenter
Professor Frank Grosveld, internationally renowned molecular biologist
Stuart MacBride, one of the UK's most acclaimed crime writers
Bill Forsyth, film director and writer ('Gregory's Girl', 'Local Hero')
Dr Jung Chang, author and campaigner
Professor Neil Buist, internationally recognised expert in child health
The Graduation ceremonies take place from Wednesday June 24th to Friday June 26th in the Caird Hall in Dundee. Around 3500 students will receive their own degrees and diplomas over the course of the week, one of the highlights of the academic calendar.
'Roddy Doyle – In Conversation' takes place at 6pm on Wednesday, 24th June at the Dalhousie Building, Old Hawkhill.
A book signing and drinks reception will follow this event and free tickets are available by visiting www.dundee.ac.uk/tickets, emailing literarydundee@dundee.ac.uk or calling 01382 386995.
To commemorate Roddy Doyle's honorary degree, Dundee Contemporary Arts will be screening the film versions of the Barrytown Trilogy instalments – The Commitments, The Van and The Snapper – on 3rd, 4th and 5th July.
For media enquiries contact:
Grant Hill
Press Officer
University of Dundee
Nethergate, Dundee, DD1 4HN
TEL: 01382 384768
E-MAIL: g.hill@dundee.ac.uk
MOBILE: 07854 953277