Ramsay and Berry to Bake Off for Dundee Botanic Garden
Published On Tue 20 Oct 2015 by Roddy Isles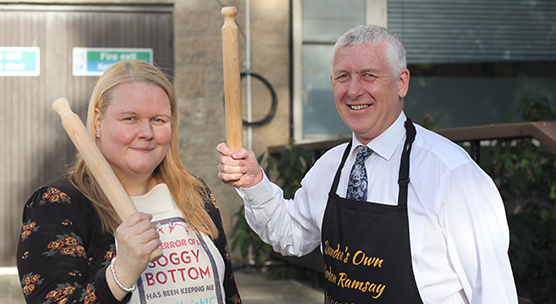 Gordon Ramsay and Mary Berry are set to go head to head later this month at a special bake-off designed to raise money for Dundee's Botanic Garden.
The contestants are, however, not the well-known stars of culinary television but rather employees of the University of Dundee who decided to host the fundraiser by stepping into roles more commonly associated with their famous namesakes.
Gordon works for the University's Alumni & Development team while Mary is a member of the IT department. They will be joined by Northern Irish television chef and world award-winning food author James McIntosh, a graduate of the University, for the event, which takes place at the DoubleTree by Hilton Hotel on Thursday, 29th October.
James will be providing secret recipes that the two amateur bakers will try to replicate. The goodies they prepare will be Halloween-themed whilst also telling the story of Dundee through baking, and local legend Dennis the Menace will also be popping along to take part in the evening's fun.
James said, "I'm not a betting man, but can Gordon finish off with a decorative botanical bouquet in his technical challenge or will Mary's berries make a show stopping cake topping?"
Gordon, who is known to be considerably more mild-mannered than his legendarily foul-mouthed namesake, said, "When you share a name with someone famous the first thing people say is 'seriously?' when they are introduced to you so we thought we would exploit the cookery angle and do something to raise money for a good cause.
"We're fundraising for Dundee Botanic Garden Endowment Trust as a way of highlighting the importance of plants to our everyday life. It's sure to be a fun evening and the audience will not only get some tasty treats but they'll also learn something about baking and Dundee in the process."
Mary added, "I cannot believe that our Bake Off has risen into this amazing challenge but I look forward to whipping up some support and beating my opponent and hope that come the end we don't have egg on our faces."
The Great Dundee Charity Bake Off takes place at the DoubleTree by Hilton Hotel from 7-9.30pm on Thursday, 29th October. Refreshments will be provided on arrival and tickets, costing £15 each, can be reserved by contacting Gordon on 01382 381136 or g.w.ramsay@dundee.ac.uk. Anyone wishing to make a donation can do so by visiting https://mydonate.bt.com/fundraisers/gordonramsay1
For media enquiries contact:
Roddy Isles
Head of Corporate Communications
University of Dundee
Nethergate, Dundee, DD1 4HN
Tel: +44 (0)1382 384910
Mobile: 07800 581902
Email: r.isles@dundee.ac.uk