New Year Honours for University staff
Published On Thu 31 Dec 2015 by Roddy Isles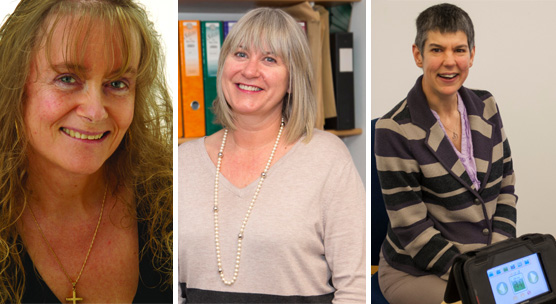 The New Year Honours list has seen University of Dundee staff rewarded for their work and contribution to society.
Professor Annalu Waller, Chair of Human Communication Technologies at the University of Dundee, has been awarded an OBE for her services to people with complex communication needs.
Professor Waller has been based in Computing at the University since 1989 and has helped established Dundee's reputation as one of the world's leading centres for research into augmentative and alternative communication technologies for people with severe communication difficulties.
She works closely with children and adults with disabilities, involving service users in the development of innovative technologies.
"I am delighted to receive this Honour, which I feel really puts complex communication needs on the map," said Professor Waller. "The reason I came to Dundee in 1984 to do my PhD was that the University was at the forefront of developing predictive communication aids for non-speaking people.
"We have remained a world leader in this field, principally I think because we have always involved people who need to use these aids in the development of new tools. We are working with the most severely disabled people in society and giving them a voice in research."
Professor Waller's work brings together various academic disciplines, including medicine and dentistry, the charitable sector (Capability Scotland), and many private sector company partners.
Annalu is an Honorary Chaplain within the University's Chaplaincy team. Annalu trained part-time for the ordained ministry at the Theological Institute of the Scottish Episcopal Church (Anglican) in Edinburgh from September 2001 to June 2004, gaining a Diploma in Theology for Ministry. She was ordained Deacon in 2004 and was priested in 2005 - she served her curacy at St Margaret's Church from 2004 to 2007. She served as a team priest on the ministry team of the linked charges of St John the Baptist, St Margaret and St Martin in Dundee until Epiphany 2014.
Dana O'Dwyer, Chief Executive of Capability Scotland, said, "Annalu is a truly inspirational figure who has made a tremendous contribution to Capability Scotland's work over many years and made a real difference to the lives of disabled people. She has given our customers a voice through her research, as a Trustee she has helped guide the organisation for many years and as a disabled person who has achieved so much in her own life she is an inspiration to the children, young people and adults who use our services. This is a richly deserved honour for Annalu."
Mrs Vivienne McGuire, Bequest Secretary for the University of Dundee, has been awarded an MBE for her services to bequeathal in anatomy.
Mrs McGuire is based in the Centre for Anatomy and Human Identification (CAHID) at the University. She is the main point of contact at the University for people who want to donate their bodies to medical science.
Donations support the world-leading research taking place at the University, especially in CAHID and the Schools of Medicine and Dentistry.
Mrs McGuire has worked at the University for 25 years. She said, "I am absolutely delighted to receive this, not to mention extremely surprised! It has always been an honour to me to work with the people who want to donate their bodies to medical science. It places a considerable responsibility on us and we are extremely sensitive to that and very appreciative of people's wishes."
Professor Sue Black, Director of CAHID, said, "On a daily basis Vivienne is the connection between grieving families and the University's bequeathal process. It is a demanding job and I am in awe of her tremendous compassion and professionalism. We are all inordinately proud of her."
Professor Jill Belch has been awarded an OBE for her services to medicine.
Professor Belch's personal research career has made an outstanding contribution to the University's reputation for excellence in translating new knowledge into effective patient care, having led more than 30 international multicentre clinical trials and winning in excess of £32M of peer-reviewed grant funding over 27 years.
She led the Research Institute in the Medical School until May 2015 and saw it achieve a number one ranking in the UK for impact in the Research Excellence Framework 2014, the main assessment of research quality in the UK.
Professor Belch has also held the roles of Director of the Tayside Academic Health Science Centre (TASC) and co-Director of the Academic Health Science Partnership.
As Research and Development Director in Tayside and as a member of Scotland's Chief Scientist's Office NRS Strategy Board she has contributed to the successful strategic direction of clinical research infrastructure and funding across Scotland.
Professor Belch said, "I am absolutely delighted to have received this award. I accepted it on behalf of the teams I worked with as this is as much their Honour as mine. My thanks to those in the Tayside Medical Science Centre and all the Research Management team in the School of Medicine for their support - I share this award with you."
Principal of the University, Sir Pete Downes, commenting on the awards said, "These awards recognise women who in different ways epitomise the University's mission to transform lives.
"Jill Belch has been an inspirational leader of research and development within the University and Medical School. Vivienne McGuire is someone who quietly gets on with a difficult job with great sensitivity and in so doing brings comfort to grieving friends and relatives and purpose to the deceased. Annalu Waller's work helps people with disabilities on a daily basis to participate in research that makes a huge difference to their lives. She is also the best possible role model for anyone to succeed against the odds. I am extremely proud of them all."
For media enquiries contact:
Roddy Isles
Head of Corporate Communications
University of Dundee
Nethergate, Dundee, DD1 4HN
Tel: +44 (0)1382 384910
Mobile: 07800 581902
Email: r.isles@dundee.ac.uk