New comic created in Dundee set for launch
Published On Thu 30 Apr 2015 by Grant Hill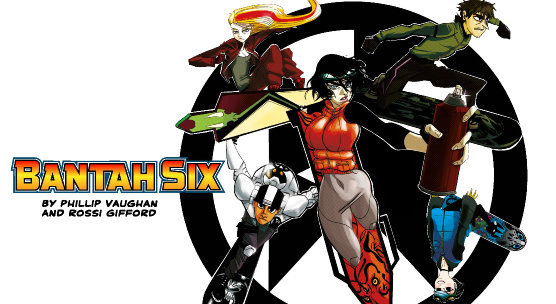 A new comic strip created by a University of Dundee lecturer and graduate will next week make its debut in comics legend David Lloyd's digital anthology.
Bantah Six was conceived by Phillip Vaughan, MSc Animation & VFX Course Director at Duncan of Jordanstone College of Art & Design, and produced with his former student Rossi Gifford. It will appear in the next edition of Aces Weekly, the digital comic launched by Lloyd, the celebrated illustrator of V for Vendetta.
The seven-part strip tells the story of a rogue underground graffiti gang and is set in the futuristic world of New Terra, where all is not what it seems. The art has a strong manga influence, and the concept was originally conceived in the 1990's as an animated TV show.
Phillip explained, "We are both very excited to be a part of the Aces Weekly roster. I originally came up with the concept for Bantah Six over 20 years ago, whilst I was still a student here. The idea has stuck around, and I have been trying to work out the best way to develop the concept for a very long time.
"Whilst teaching my Comics & Graphic Novels Module, I realised that comic serialisation would be the best way to go. It was here that I first saw the work of Rossi Gifford. Rossi was a great student, dedicated, talented and fast. I knew she had great potential from day one."
Phillip approached David Lloyd at San Diego Comic Con last year after identifying Aces Weekly as a suitable outlet for the work. After they submitted a Bantah Six production bible, the celebrated artist agreed to publish the strip in his anthology.
After graduating from Dundee, Rossi moved to Canada. Phillip emails her the script, from which she produces roughs and thumbnails. Once approved, Rossi completes the line work and colouring before Phillip carries out the production and lettering and tweaks the dialogue to fit the final art.
Rossi said, "Working on Bantah Six has allowed me to experiment with my technique and develop characters that are unique in both style and personality. The science fiction world captivates me with its hover boards, robots, graffiti and fashion. Every time I draw the cast, I want to know more about them and I hope the reader does too. Being part of the process of creating Bantah Six has been great fun and I look forward to working on it in the future."
The first episode of Bantah Six will appear in Vol.16 of Aces Weekly on Monday, 4th May.
More information is available at www.acesweekly.co.uk.
For media enquiries contact:
Grant Hill
Press Officer
University of Dundee
Nethergate, Dundee, DD1 4HN
TEL: 01382 384768
E-MAIL: g.hill@dundee.ac.uk
MOBILE: 07854 953277