Nathwani family cross the globe to celebrate Alka's graduation
Published On Mon 29 Jun 2015 by Grant Hill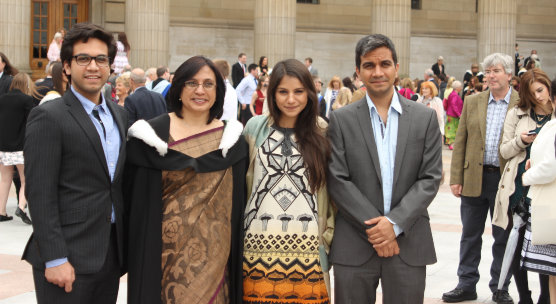 Families travelled from far and wide to celebrate their loved ones' graduation at the University of Dundee last week but none clocked up more miles than the Nathwani family.
Distance learning student Alka Nathwani was accompanied by her sister Pratiksha as she travelled from Dar-es-Salaam in Tanzania to collect her BA Early Childhood Study degree but with family scattered across the four continents that was only part of the story.
Alka's daughter and two sons all study overseas but were determined to be with their mother on her big day. Krishna flew in from Sydney for her mother's graduation, while Tilak and Amar travelled from Sheffield and Toronto respectively. Alka and Pratiksha's sister and brother-in-law Pratibha and Dr Raj Naidi also travelled from their home in London for the event and a subsequent family holiday in the Highlands.
Alka's own journey to graduation began ten years ago when she began studying in order to improve the experience she provides for children in her day care centre at home. Taking advantage of the flexibility offered by part-time distance learning programmes, she completed modules as her work and family commitments allowed before finally earning her degree earlier this year.
"It was a wonderful experience to have all my family together again and to be with me when I graduated," she said. "My children all travelled so far to be here and it is a very special time for us. I am also delighted that my sister and brother-in-law could be with me as I owe them so much. They helped me get my play group up and running in the first place and funded the first few years of my study.
"It was hard to balance study with my other commitments so the degree took longer than expected but I have learned so much in that time. Every time I completed a module I would incorporate my learning into the day care centre and parents really appreciated the changes I was making because it improved their child's experience.
"When I first began looking for a suitable distance learning course there didn't seem to be anything in early childhood studies but the British Council helped me find out about the University of Dundee. The course has been great for me and I am very happy to now be visiting Scotland for the first time and visiting these lovely places and meeting lovely people with my family."
Alka has built her play school from modest beginnings with only three students, one of whom was Amar, and now provides a high standard of education to around fifty children. Being a Tanzanian of Indian origin, she has been able to create a comfortable environment for culturally diverse families, overcoming boundaries of race and language. Pratiksha assists her in the running of the business.
Although Krishna and Amar will fly back to Australia and Canada next week, Alka will stay in the UK for another family celebration when Talik graduates from the University of Sheffield at the end of July.
For media enquiries contact:
Grant Hill
Press Officer
University of Dundee
Nethergate, Dundee, DD1 4HN
TEL: 01382 384768
E-MAIL: g.hill@dundee.ac.uk
MOBILE: 07854 953277