`My Diabetes My Way' wins top UK award
Published On Thu 19 Mar 2015 by Roddy Isles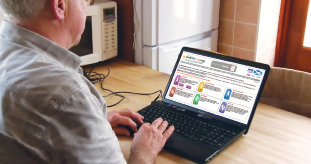 An innovative project which allows people with diabetes across Scotland electronic access to their medical records has been recognised with a top UK award.
`My Diabetes My Way', a project led by the University of Dundee and NHS Scotland, has been named winner of the Education and Self-Management Award at the Diabetes UK Annual Professional Conference.
`My Diabetes My Way' offers people with diabetes anywhere in Scotland online access to their medical records. In addition to explaining all of the clinical measurements that are presented, personalised and tailored information helps people understand and take control of their condition.
The project fought off competition from five other shortlisted candidates from across the UK to win the award.
Dr Scott Cunningham, Technical Lead for My Diabetes My Way, said, "This is fantastic recognition for the work of the My Diabetes My Way team over the last few years. We hope this leads to greater awareness of the service to ensure that anyone with an interest in accessing their records online hears about it and signs up.
"The project is a strong example of the ways in which we can engage with patients and help transform the care, and the quality of information, they receive."
Anyone with diabetes across all 14 NHS Scotland Health Boards can register online at: www.mydiabetesmyway.scot.nhs.uk
Roddy Isles
Head of Press
TEL: 01382 384910
MOBILE: 07800 581902
E-MAIL: r.isles@dundee.ac.uk