Moroccan and Kenyan trips raise £45,000 for Childreach International
Published On Thu 17 Dec 2015 by Grant Hill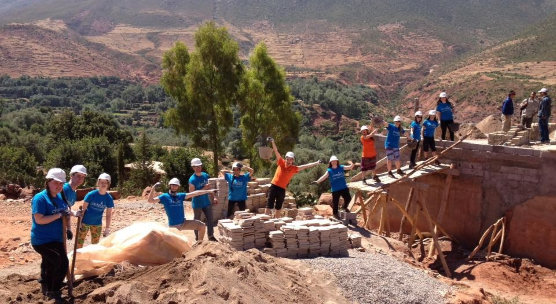 Students from the University of Dundee, Abertay University and Dundee and Angus College have raised an incredible £45,000 for an international education charity in just one year.
Last summer, a team of 16 students set out with the charity Childreach International to help build an education centre in a small village in the middle of the High Atlas Mountains in Morocco. After arriving, they lived among the villagers and assisted with all the on-site manual labour from tiling to plastering to clearing dirt. The centre is now used by nursery and infant children during the day and by the women of the village in the evenings to ensure everyone has the chance to be educated.
In order to make it to Morocco each participant had to individually raise £1500, which was achieved through car boot sales, cake sales, band nights, club nights and other initiatives. The team, led by members of the Friends of Childreach International societies at Dundee and Abertay universities, raised almost £24,000. This summer, another group travelled to Kenya to climb Mount Kilimanjaro and generated a further £22,000 for the charity.
This money not only went to help build the school in the mountains but to also help Childreach's other projects and campaigns. Their efforts were recognised when they won the Best Big Build fundraising team prize at the recent Childreach Awards ceremony.
Alice Palombo, President of Friends of Childreach International at the University of Dundee, said, "The Morocco trip was an amazing experience for all of us. The reception we received from the villagers was fantastic and humbling. The chief decanted his entire extended family so we would have somewhere to stay.
"After we were introduced to people and taken for trek through mountains before we started 11 days of hard work, which seemed to mainly involve shovelling dirt! At the end of it all it was very satisfying to see this new facility that would help the people there starting to take shape."
Amy Bryson, President of Friends of Childreach International at Abertay, said, "Childreach International works in these communities to help the children achieve their potential and provide them with the education they deserve. They work in the High Atlas Mountains to allow the children there to learn French and Arabic as a second language to Berber, which means they can go out into the wider community and large cities for further education.
"I can't convey just how welcoming and accommodating the villagers were. They treated us as part of the community and welcomed us into their homes, showing us their way of life. They had the utmost patience when teaching us how to build. None of us had any building experience so it was very new, but we definitely learnt some new skills. The kids were amazing, they were very excited to have us there and all wanted to learn from us."
Alice, a third-year Law student says she was recruited to the society by a friend during a lecture and would encourage any student who wishes to get involved to do so.
"The Friends of Childreach International societies at the universities of Dundee and Abertay are closely linked and we also work to get students from Dundee and Angus College involved as well," she said. "We have a trip to Nepal coming up in June and another to Machu Picchu in August. We're hoping to raise a similar amount so if anyone wants to get involved they can get in touch."
Anyone interested in joining Friends of Childreach International or sponsoring their upcoming trips should contact Alice on a.e.v.palombo@dundee.ac.uk.
For media enquiries contact:
Grant Hill
Press Officer
University of Dundee
Nethergate, Dundee, DD1 4HN
Tel: +44 (0)1382 384768
Mobile: 07854 953277
Email: g.hill@dundee.ac.uk