'Making Jewellery Work' – Dundee Arts Café on Tuesday, 21st April
Published On Mon 13 Apr 2015 by Grant Hill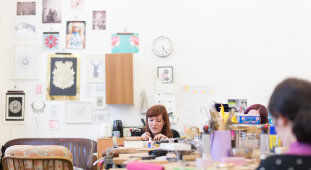 Vanilla Ink founder Kate Pickering will talk about 'Making Jewellery Work' at the next Dundee Arts Café event on Tuesday, 21st April.
University of Dundee graduate Kate founded Vanilla Ink in Dundee in 2009 to celebrate and support emerging jewellers. Despite now living in Glasgow, Kate continues to support the creative industries in Dundee and she will be joined by some of her Vanilla Ink alumni to discuss their experiences and the importance of networks, creative communities and facilitation at the Arts Café event at The McManus: Dundee's Art Gallery & Museum.
"The ethos of Vanilla Ink was to build a community that engages with its surroundings in a transparent way, empowering and enriching the maker and their experiences," Kate said. "We supported new jewellery graduates in an open and honest environment that breeds creativity, skill-sharing and strengthening the sector across Scotland and beyond.
"Vanilla Ink will be taking a year out to reflect on its successes and the not so successful, develop strong partnerships and review the landscape for opening both a new Vanilla Ink in Glasgow and plan Vanilla Ink Dundee 2.0."
Dundee Arts Café is a programme of talks showcasing arts research and developments taking place locally. The series is organised by the Universities of Dundee and Abertay, and Dundee City Council's Leisure & Culture department.
Dundee Arts Café events enable members of the public to relax and discuss the arts, from English to History, Philosophy to Architecture, and Fine Art to Product Design, with some of the leading names carrying out work in these areas in Dundee.
The events last one hour, and speakers talk passionately about their work for 30 minutes before the floor is opened up to an informal discussion with the audience. All talks take place in The McManus Café, Albert Square, Dundee.
'Making Jewellery Work' takes place at The McManus: Dundee's Art Gallery and Museum at 6pm on Tuesday, 21st April. The event is free and open to all but limited seating means visitors are advised to arrive early to avoid disappointment.
For more information about the event and Dundee Arts Cafe please visit www.DundeeArtsCafe.co.uk.
For media enquiries contact:
Grant Hill
Press Officer
University of Dundee
Nethergate, Dundee, DD1 4HN
TEL: 01382 384768
E-MAIL: g.hill@dundee.ac.uk
MOBILE: 07854 953277