Leading creative thinkers strike gold at Undergraduate Awards
Published On Thu 24 Sep 2015 by Grant Hill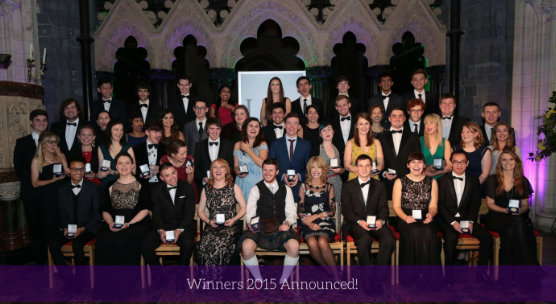 The University of Dundee's Marianne White and Megan Falconer are among the winners of this year's Undergraduate Awards, a competition that attracted more than 5000 entries from around the world.
Marianne was the Overall Winner of the Nursing & Midwifery category, while Megan won the same award for Visual Arts & Design. Their success was announced last night and they will receive their awards at a ceremony in Dublin in November.
Cited as the ultimate champion for the highest performing undergraduates, the Undergraduate Awards is the world's only pan-discipline academic awards programme that identifies leading creative thinkers through their undergraduate coursework.
Marianne's winning paper examined factors affecting rates of Caesarean and natural births. Megan's work explored 'Unexpected Surfaces'. They were among eight entrants from the University in the running for the top awards after being highly commended for their submissions.
Professor Karl Leydecker, Vice-Principal (Learning & Teaching) at the University, said, "We are absolutely delighted that Marianne and Megan have been named as the Overall Winner in their respective categories and congratulate them on their success.
"This is a fantastic achievement by both students, as well as the other six Dundee representatives who were shortlisted. The Undergraduate Awards are fiercely contested among students at highly prestigious universities from around the world so it is a great reflection of the quality of our students here at Dundee that we are so well represented."
This year's awards attracted 5,117 submissions from students in 255 universities across 39 countries. Those who were highly commended were in the top 10 per cent of all entries and competed to become one of the 50 overall and programme winners.
The other shortlisted Dundee students were:
Alexandru Iliescu (Law)
Rachael Delaney (Law)
Matei Agavriloaei (Life Sciences)
Fraser Logan (Politics & International Relations)
Thalea Turowski (Politics & International Relations); and
Kerry Quinn (Education)
UA provides top performing students with the support, network and opportunities they require to raise their profiles and further their career paths. Winners are published in the annual academic Undergraduate Journal, as well as being invited to the UA Global Summit in Dublin. Winners and Highly Commended students also gain access to the UA Alumni Network. The University of Dundee is an Affiliate Member of the Undergraduate Awards.
For more on the Undergraduate Awards see: http://www.undergraduateawards.com/
For media enquiries contact:
Grant Hill
Press Officer
University of Dundee
Nethergate, Dundee, DD1 4HN
TEL: 01382 384768
E-MAIL: g.hill@dundee.ac.uk
MOBILE: 07854 953277