Lateral thinking about chromosome linking
Published On Mon 9 Mar 2015 by Roddy Isles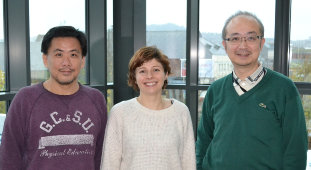 Scientists led by a group at the University of Dundee have made a significant discovery about how our cells properly inherit their genetic information.
The research team led by Wellcome Trust Principal Research Fellow Professor Tomo Tanaka and colleagues Dr Maria Kalantzaki and Dr Etsushi Kitamura in the College of Life Sciences at Dundee, working in collaboration with researchers at the University of Oxford, has studied a process of `lateral linking' by which cells can properly multiply, one of the basic processes in all life.
The researchers say their findings give an insight into how abnormal cell division ends up causing cancers and genetic diseases.
Chromosomes carry genetic information in cells. When cells divide and multiply, a complete set of chromosomes must be duplicated and separated into each new cell with precision, as any error in this process might cause cell death, cancers and genetic diseases.
Proper separation of chromosomes relies on their linking to wire-like structures in the cell. If chromosomes are linked to the wires incorrectly, that link must be removed and a correct one formed.
Professor Tanaka said, "We have discovered that a chromosome is initially linked to the lateral side of a wire, before moving to its tip. The lateral linking allows a chromosome to catch a wire very efficiently. Once a chromosome reaches the tip of a wire, incorrect linkages are recognized and removed, whereas correct ones are retained.
"As lateral thinking often helps us to find a bright idea, so lateral linking helps a chromosome to find a right wire quickly. Future research should address not only how genetic information is inherited during normal cell division but also should study how this process could go wrong."
The results of the research are published in the journal Nature Cell Biology.
The research has been funded by The Wellcome Trust, the Medical Research Council, EU's 7th Framework Programme for Research, the European Research Council, CR-UK, the Human Frontier Science Programme and the Biotechnology and Biological Sciences Research Council.
NOTES TO EDITORS
Life Sciences at Dundee
Dundee was the UK's top ranked university for Biological Sciences in the 2014 Research Excellence Framework. With more than 900 scientists, research students and support staff from 62 countries and external funding in excess of £50million per annum, the College of Life Sciences at the University of Dundee is one of the largest and most productive Life Sciences research institutes in Europe. The College has an international reputation for its basic and translational research. The University of Dundee is the central hub for a multi-million pound biotechnology sector in the east of Scotland, which now accounts for 16% of the local economy. www.dundee.ac.uk
The Wellcome Trust is a global charitable foundation dedicated to improving health. We support bright minds in science, the humanities and the social sciences, as well as education, public engagement and the application of research to medicine.
Our investment portfolio gives us the independence to support such transformative work as the sequencing and understanding of the human genome, research that established front-line drugs for malaria, and Wellcome Collection, our free venue for the incurably curious that explores medicine, life and art.
The Medical Research Council has been at the forefront of scientific discovery to improve human health. Founded in 1913 to tackle tuberculosis, the MRC now invests taxpayers' money in some of the best medical research in the world across every area of health. Thirty-one MRC-funded researchers have won Nobel prizes in a wide range of disciplines, and MRC scientists have been behind such diverse discoveries as vitamins, the structure of DNA and the link between smoking and cancer, as well as achievements such as pioneering the use of randomised controlled trials, the invention of MRI scanning, and the development of a group of antibodies used in the making of some of the most successful drugs ever developed. Today, MRC-funded scientists tackle some of the greatest health problems facing humanity in the 21st century, from the rising tide of chronic diseases associated with ageing to the threats posed by rapidly mutating micro-organisms. www.mrc.ac.uk
About Cancer Research UK
Cancer Research UK is the world's leading cancer charity dedicated to saving lives through research.
Cancer Research UK's pioneering work into the prevention, diagnosis and treatment of cancer has helped save millions of lives.
Cancer Research UK receives no government funding for its life-saving research. Every step it makes towards beating cancer relies on every pound donated.
Cancer Research UK has been at the heart of the progress that has already seen survival rates in the UK double in the last forty years.
Today, 2 in 4 people survive cancer for at least 10 years. Cancer Research UK's ambition is to accelerate progress so that 3 in 4 people will survive cancer within the next 20 years.
Cancer Research UK supports research into all aspects of cancer through the work of over 4,000 scientists, doctors and nurses.
Together with its partners and supporters, Cancer Research UK's vision is to bring forward the day when all cancers are cured.
For further information about Cancer Research UK's work or to find out how to support the charity, please call 0300 123 1022 or visit www.cancerresearchuk.org. Follow us on Twitter and Facebook.
Roddy Isles
Head of Press
TEL: 01382 384910
MOBILE: 07800 581902
E-MAIL: r.isles@dundee.ac.uk