Judges for Dundee International Book Prize 2015 announced
Published On Mon 16 Mar 2015 by Grant Hill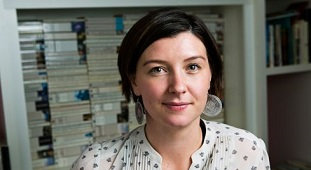 A prestigious judging panel will bring expertise from all corners of the publishing industry to bear on this year's Dundee International Book Prize.
Writer and television/radio presenter Danny Wallace, award-winning author Denise Mina, broadcaster Fred MacAulay, literary agent Ed Wilson and Creative Scotland's Jenny Niven will cast their eyes on the labours of aspiring novelists from across the globe. The entrants are competing for a publishing deal with Cargo Publishing and £10,000, the largest cash prize for unpublished work in the UK.
Now in its 11th year, the Prize attracted almost 500 entries for 2015, the largest volume of submissions to date. The competition is a joint venture between the 'Dundee – One City, Many Discoveries' campaign and Literary Dundee, a University-led initiative. It is open to both local writers and authors from around the world. Amy Mason was the winner in 2014, with her novel The Other Ida.
Literary Dundee Director Anna Day said, "It's exciting to be working with such a fantastic panel of judges, a mix of authors, broadcasters and industry experts that will help us find a brilliant new author as the winner of the 2015 Dundee International Book Prize."
Cargo Managing Director Gill Tasker said, "We at Cargo are really looking forward to reading dynamic new writing from all over the world. With the expert judging panel in place, we are excited at the prospect of publishing the ultimate winner, selected with their expansive knowledge and insight."
Will Dawson, convener of Dundee City Council's city development committee, added, "The broad spectrum of expertise that this year's judging panel covers is testament to the wide range of writing styles and subject matter that the Dundee Book Prize encourages. I am delighted that the city's literary credentials continue to be reinforced by the interest in the prize from authors, judges and the wider writing world."
Danny Wallace was born in Dundee and continues to be a great champion of his home town. Now a regular television presenter, columnist, author and Honorary Graduate of the University of Dundee, Danny's books include Who is Tom Ditto?, Yes Man – now a major Warner Bros. film starring Jim Carrey – and Hamish and the World Stoppers, his hilarious debut for children, which will be published later this month.
Denise Mina is the author of 12 novels which have been translated into 15 languages. She has won the Theakstons' Crime Novel of the Year (twice), CWA daggers, Anthony Awards, and the Spirit of Scotland Award. In addition, she has been shortlisted for an Edgar and the LA Times Book of the Year. She has written three plays and five graphic novels, authored Hellblazer for a year and also writes comics. Denise was a judge on the Bailey's Women's Prize for Fiction in 2013.
With his popular morning radio show and a string of TV credits, Fred MacAulay is undoubtedly one of the most famous voices of Scottish comedy today. His on-screen reputation and on-air witticisms are the product of years of experience on the live circuit, including a stint as the first ever-Scottish compere at the Comedy Store in London. Fred is a graduate of the University of Dundee, was appointed Rector of the University in 2001 and received an Honorary Degree four years later.
Ed Wilson is a literary agent and Director of Johnson & Alcock, and previously worked as a bookseller and in editorial at a trade publisher. He works with a diverse list of fiction and non-fiction, encompassing everything from debut writers to established, bestselling and award-winning authors, and looks after the majority of the agency's Estates. In the last twelve months his authors have published books about cats, pickpockets, disgraced politicians, éclairs, ghosts, boxers, Danish footballers, space stations, nuns, sheep, Satanists, bluestockings, artificially-engineered humanoids, dragons, murderous jockeys and Bright Young Things.
Jenny Niven leads on Literature, Publishing and Languages at Creative Scotland, working with individual writers, publishers and literary organisations to support Scotland's vibrant ecology of books and writing. The literature team work with individual writers and storytellers in a plethora of forms, and in all of Scotland's languages, at every stage of their careers. Jenny was formerly Associate Director at the Wheeler Centre for Books, Writing and Ideas in Melbourne, the centrepiece of the City's designation as a UNESCO City of Literature, following six years in China, where she was inaugural director of the city's first book festival and literary events program, The Bookworm International Literary Festival.
The winner of the 2015 Dundee International Book Prize winner will be revealed at the Dundee Literary Festival, 21st-25th October.
For media enquiries contact:
Grant Hill
Press Officer
University of Dundee
Nethergate, Dundee, DD1 4HN
TEL: 01382 384768
E-MAIL: g.hill@dundee.ac.uk
MOBILE: 07854 953277