JOOT take Everyman on tour
Published On Tue 7 Apr 2015 by Grant Hill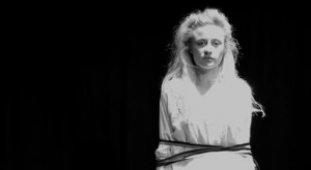 The University of Dundee's JOOT Theatre Company will take their production of Everyman to Fife and Perthshire this month.
The company will be performing on the main stage at the Byre Theatre in St Andrews on Saturday, 11th April as part of the On the Rocks Theatre Festival. They will repeat the performance in the Chapel of The Library of Innerpeffray, Crieff, on Saturday, 25th April.
JOOT was established in 1992 and, under the direction of Dr Jo George of the English programme, the company has undertaken many well-received performances and participated in a series of festivals.
Dr George said, "We would invite anyone interested in theatre to come along to St Andrews and Crieff to see out innovative production of this popular mediaeval morality play, which re-imagines the story for the modern world by setting it in the context of a dream.
"In a day just like any other, Everyman, played by Hollie Whitfield, is suddenly confronted by Death, played by Kenneth Spence, and learns that his time on earth is almost up. In the short time remaining to him, Everyman must try to find a companion to journey with him to the grave. Will he be successful? That all depends on whether or not he can get his Book of Count in order before the end comes."
On The Rocks is an entirely student-run arts festival incorporating art, photography, film, theatre, dance, fashion, music and comedy, showcasing an eclectic range of entertainments for every taste and age group.
Tickets for St Andrews are available via http://byretheatre.com/ and those for the Crieff event can be obtained by calling Lara Haggerty on 01764 652819.
For media enquiries contact:
Grant Hill
Press Officer
University of Dundee
Nethergate, Dundee, DD1 4HN
TEL: 01382 384768
E-MAIL: g.hill@dundee.ac.uk
MOBILE: 07854 953277