Gender equality commitment earns Athena SWAN awards
Published On Thu 1 Oct 2015 by Roddy Isles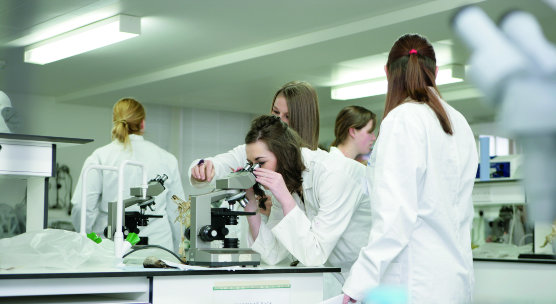 The University of Dundee's work in advancing gender equality across the institution has been recognised with two more Athena SWAN Bronze awards.
These Athena SWAN awards recognise commitment and success in developing practices to support the careers of women in science, technology, engineering, maths and medicine (STEMM) in academia.
The University has been awarded two Bronze awards for its work in Engineering, Physics and Mathematics and in Computing. This brings the total number of Athena SWAN department awards to five, with previous honours going to Life Sciences; Medicine, Dentistry & Nursing; and the Centre for Anatomy and Human Identification.
"We are delighted with these awards which recognise the efforts made to develop a supportive working environment for women and all our staff," said Professor Nic Beech, Vice Principal Academic Planning and Performance.
"An enormous amount of work and commitment has been shown by staff and students across the University to provide a progressive and supportive environment for career development."
Work for the Athena SWAN submission in Engineering, Physics and Maths was led by Professor Gunnar Hornig, and Professors Janet Hughes and Annalu Waller led the work in Computing.
The University was awarded an Institutional Bronze award in April 2013.
In obtaining the Institutional Bronze award the University committed to the Charter's six principals addressing gender inequality, the need for cultural change within an organisation and recognition of some of the problems facing women in STEMM sectors.
Athena SWAN initiatives across the University include increasing the capacity of the University nursery and improving work/life balance policies.
The Athena SWAN awards are made by the Equality Challenge Unit. Holding an Athena SWAN award not only improves the representation and career progression of women in STEMM in an institution but also has an overarching positive effect on working culture and environment that benefits all staff.
In May 2015 the charter was expanded to recognise work undertaken in arts, humanities, social sciences, business and law (AHSSBL), and in professional and support roles, and for trans staff and students. The charter now recognises work undertaken to address gender equality more broadly, and not just barriers to progression that affect women.
The University of Dundee has already signed the expanded charter and will continue to work across the institution towards gender equality.
For more information about Athena SWAN see:
http://www.ecu.ac.uk/equality-charters/athena-swan/
Roddy Isles
Head of Press
TEL: 01382 384910
MOBILE: 07800 581902
E-MAIL: r.isles@dundee.ac.uk