Fulbright students return to US with new insights into Scotland
Published On Mon 10 Aug 2015 by Grant Hill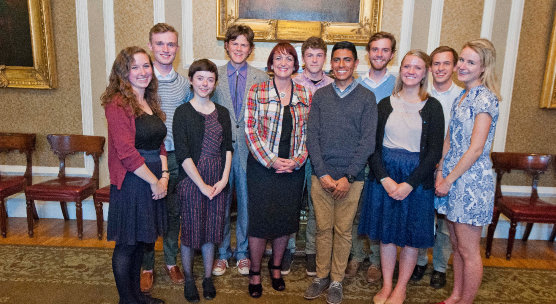 Ten American undergraduates have returned to the USA after a five-week exchange visit to Scotland, hosted by the Universities of Dundee and Strathclyde, which offered them a valuable insight into Scottish identity, culture and innovation.
From 5th July – 8th August, the students took part in the prestigious Fulbright-Scotland Summer Institute, an intensive programme of lectures, seminars and cultural study visits exploring Scotland's contribution to shaping the world and its place in today's global society.
The packed programme, led by senior academic staff, curators and guest speakers. included:
a presentation on the University of Strathclyde's new Technology and Innovation Centre
presentations on medicines, drug discovery, Scotland's legal tradition, Highland landscapes and the media in Scotland
tours of the Scottish Parliament, the National Museum of Scotland, Glamis Castle, The Palace of Holyroodhouse and Glasgow's Merchant City
roundtable discussions with the British Council Scotland on the role of UK and Scottish education and cultural relations overseas, and with the Scottish Government on Europe and international development
an afternoon at BBC Scotland and Future News.
The students also attended official receptions hosted by the Scottish Government at The Royal Society of Edinburgh (RSE) and the US Consulate General in Edinburgh.
Speaking at the RSE event, Angela Constance MSP, Cabinet Secretary for Education and Lifelong Learning with the Scottish Government, said, "Scotland may be small in geographic terms compared to the US but in terms of our global footprint across the world, we punch above our weight. This influence is demonstrated by our universities and the international reputation they have for research and academic excellence.
"Studying abroad lets a person experience different cultures and traditions. We welcome the role the Fulbright Commission plays to enhance the education links between our countries. I wish to thank the dedicated staff at Strathclyde and Dundee for their hard work in building this programme and for sharing our wealth of science, culture, history and innovation."
Patty Esch, who is studying biological sciences and global health at Arizona State University, said, "These five weeks with the Fulbright-Scotland Summer Institute have been unmatched by any other academic or cultural experience I have had. I have challenged my preconceived notions, understood current events in the political sphere, met students, faculty and citizens and learned about a variety of topics and disciplines.
"Learning did not just take place in the classroom, but over dinner conversations, hiking chats, train rides and cultural events. This program has taught me to understand my own unique identity as an American, an honorary Scot, and a global citizen."
Liam Hannan, who is studying history and studio art at St Olaf College, Minnesota, said, "Through this Institute, I have come to realise the complexity of Scottish identity. I have experienced the beauty of Scotland's cities and landscapes, the innovative nature of its industry, and the friendliness of its people.
"However, like any country, Scotland experiences hardship, and to truly understand Scottish identity is to understand how Scots confront that hardship. I am indescribably grateful to the Fulbright Commission for giving me this glimpse into Scottish culture, and I am excited to return someday, continue my studies, and maybe stick around for a year or 30."
The students participating in this year's institute were: Michael Beckwith, Ohio State University; Matthew Breen Jr, Florida State University; Timothy Campbell, Baylor University; Omar Escamilla, College of DuPage; Patricia Esch, Arizona State University; Liam Hannan, St Olaf College; Lisa McGovern, University of Illinois; Daniel Osborne, Roanoke College; Nina Warner, Pomona College; Jael Whitney, Kansas State University.
ENDS
Notes to Editors:
1. The attached photo shows Angela Constance MSP, Cabinet Secretary for Education and Lifelong Learning with the Scottish Government (fifth left), with students from the Fulbright Scotland Summer Institute 2015, in the Sir Walter Scott Room at the Royal Society of Edinburgh. Photo Chris Watt Photography/the Scottish Government.
2. The Fulbright-Scotland Summer Institute was launched in 2013 and is a unique partnership between the University of Dundee, the University of Strathclyde and the US-UK Fulbright Commission, with support from The Scottish Government and civic partners.
3. The Fulbright Program is the flagship educational and cultural exchange programme of the US Department of State which promotes mutual understanding between the people of the USA and more than 150 countries.
For media enquiries contact:
Grant Hill
Press Officer
University of Dundee
Nethergate, Dundee, DD1 4HN
TEL: 01382 384768
E-MAIL: g.hill@dundee.ac.uk
MOBILE: 07854 953277