Epic `Solium' to get Degree Show premiere
Published On Thu 21 May 2015 by Roddy Isles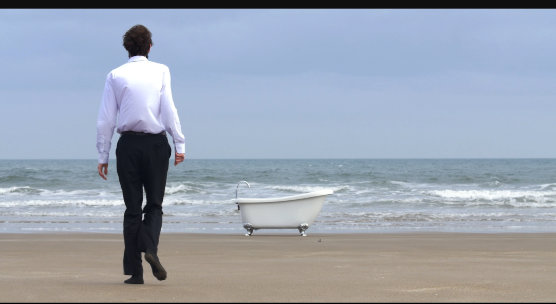 Seven months of work, days spent building and then dismantling sets, a 100-piece choir singing an original score of Gaelic psalms and scenes of bodies buried in sand and naked at the top of the Lomond hills – the making of a degree show project for two University of Dundee students has been an epic task.
Michael Hunter and Robbie Gray will premiere their film `Solium' at this year's Art, Design & Architecture Degree Show at the University. To make the film they have had to raise thousands of pounds while taking care of writing, producing, directing, filming and editing.
The finished product is a 17-minute visual feast, filmed across Scotland and charting one man's journey to enlightenment, drawing inspiration from the look and feel of last year's Scarlett Johannson hit `Under The Skin'.
"It has been a huge task to get all of this done but the people we've worked with have been so good and we had set out a plan which has actually worked well so it has ended up being one of the less stressful projects we've done," said Michael, who makes his directing debut with the film while Robbie handled the cinematography.
"Our lead actor Kristopher Curran was put through a lot – we buried him in sand on a cold day and then had him naked at the top of a hill – but he took it all in his stride. We have been working with a composer, Richard O'Brien, who has written a score of Gaelic psalms and recorded them with Rock Us Community Choir, a 100-piece group from Paisley."
The film's protagonist lies in a bathtub as his mind drifts to dream scenes in the wider world. To get their main location, the filmmakers had to build a bathroom set at the University, before dismantling it once filming was complete, a process captured in a time-lapse film at https://www.youtube.com/watch?v=2yc4XtF4a4o
"The whole process makes you take on things like this but it has been worth it," said Robbie. "We have a film that we're both really proud of and that we hope can have a life well beyond Degree Show. We are already looking at entering it into film festivals.
"We also have to say a huge thanks to everyone who supported us and helped fund the project. We made a crowdfunding appeal that brought in £2500 which was absolutely crucial to getting the film made."
`Solium' will be premiered at the University of Dundee Art, Design and Architecture Degree Show 2015, which runs from May 22nd (preview night) to May 31st.
The annual Degree Show turns the University into Scotland's largest exhibition space for a week, with over 300 students from the University's Duncan of Jordanstone College of Art & Design and the School of the Environment showing their work to thousands of visitors.
Admission is free and the exhibition is open from 10am until 8pm (Monday – Friday) and 10am to 4pm (Saturday – Sunday).