DUSA TV named NaSTA Best Broadcaster
Published On Tue 31 Mar 2015 by Grant Hill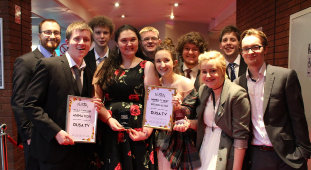 Dundee University Students' Association's DUSA TV has been crowned Best Broadcaster of 2015 at the 42nd National Student Television Association (NaSTA) awards conference in Preston.
Up against 44 other stations, DUSA TV won the most prestigious award of the conference, recognising it for the standard of content produced over the past year. The Best Broadcaster prize was judged by Shoshana Wilson, Global Acquisitions Director at Fox International Channels, who said that DUSA TV "showcased not just the club nights, but overall brilliance."
This year DUSA TV produced its 300th video since the station was formed in 2009, with no fewer than 100 of these being released this academic year.
Gillian Howieson, DUSA TV Station Manager, said, "We're still trying to wrap our heads around it. We're such a small station compared to others but everyone involved is so enthusiastic in what they do and it shows in our work.
"It's great to get national recognition for all the hard work we put in but really, we just do it for the love of student television. The support we have received from the NaSTA Exec, the other stations and everyone in Dundee has been overwhelming."
The NaSTA awards, which have been running since 1973, also saw DUSA TV be highly commended in the Animation category.
DUSA Vice President of Communications and Campaigns, Zuchaela Smylie added, "Winning this award is a great testament to the hard work put in by the members of DUSA TV. It is important that we recognise the successes of our dedicated student volunteers. These are the people who make DUSA what it is and we are all very proud of their achievements."
DUSA TV's videos can be seen at https://www.youtube.com/user/DUSATV.
For media enquiries contact:
Grant Hill
Press Officer
University of Dundee
Nethergate, Dundee, DD1 4HN
TEL: 01382 384768
E-MAIL: g.hill@dundee.ac.uk
MOBILE: 07854 953277