Dundee's artistic golden age explored in new publication
Published On Fri 11 Dec 2015 by Grant Hill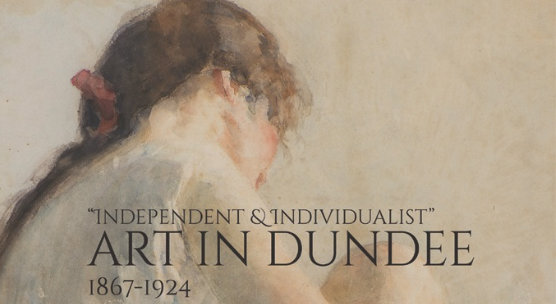 A new book exploring the history of art in Dundee will be launched at the University of Dundee next week.
The lavishly illustrated 'Independent & Individualist – Art in Dundee 1867-1924' has been written by the University's museum curator Matthew Jarron and explores in detail the period when Dundee was recognised as one of the major art centres of Britain. The official launch will take place in the Dalhousie Building at 5.30pm on Monday, 14th December.
In the late 19th century, the city staged the largest exhibitions of art outside London and hosted some of the most ambitious private art collections in Scotland. At the same time, following a significant development in art education, the number of professional artists working in the city increased dramatically.
Thanks to the unique talents of John Duncan, Stewart Carmichael, George Dutch Davidson and others, Dundee developed a distinctive new style of art, a fusion of symbolism, decorative art and the Celtic Revival.
The city also produced exceptional talents working in landscapes and portraiture, such as David Foggie, Frank Laing and W B Lamond. At the same time, there was a boom in commercial art as Dundee became an important centre for newspaper and magazine illustration.
Matthew said, "This is the first time that Dundee's art culture has been studied in depth. I've looked at the major artists and exhibitions, but also tried to explore the social, economic and political background to that extraordinary era, which has many parallels to today's cultural developments in the city.
"The title comes from a review by a London art critic in 1897, who described Dundee's artists as a 'fiercely independent and individualist school'. This has often led them to be overlooked by art historians, so I'm hoping that the book will re-establish Dundee's significance as one of the major art centres of Scotland."
The book costs £12 and will be available to buy via www.dundee.ac.uk/museum as well as various local suppliers.
Contact museum@dundee.ac.uk or 01382 384310 for further information.
For media enquiries contact:
Grant Hill
Press Officer
University of Dundee
Nethergate, Dundee, DD1 4HN
Tel: +44 (0)1382 384768
Mobile: 07854 953277
Email: g.hill@dundee.ac.uk