Dundee ultrasound expertise to boost major US nanoscale science project
Published On Tue 20 Jan 2015 by Roddy Isles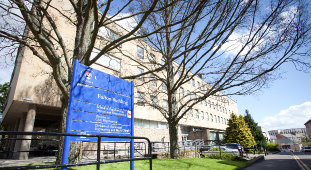 A University of Dundee research team, which is among the world leaders in developing new uses for ultrasound, is to look at the potential to develop nano-robots as part of a major study in the USA.
The Dundee team is one of only a handful of international partners to be selected to take part in the prestigious US government-funded project.
The Dundee researchers, whose work on an acoustic tractor beam was named one of the top 10 breakthroughs of the year by Physics World, will add their expertise to a six-year $15million research project on materials at the nanoscale, which is being led by the Pennsylvania State University in the USA.
The Dundee team of Dr Mike MacDonald, Professor Sandy Cochran and Dr Christine Demore are among only eight faculty members at partner institutions worldwide who will work on the project.
They will focus particularly on one of the project's main topics, to develop new types of autonomously powered micro- and nano-motors that can sense their environment and react in a collective fashion that mimics living microorganisms.
"We have world-leading expertise in manipulation of ultrasound, which we have demonstrated in projects such as our acoustic tractor beam," said Dr MacDonald, who works between the Institute for Medical Science and Technology (IMSAT) and the School of Engineering, Physics and Maths at Dundee.
"We are delighted to be asked to join this very prestigious project at Penn State which is doing some truly innovative work on nanoscale materials. In this particular project we will be looking at the potential for what are essentially autonomous, acoustically powered nano-robots."
Research in engineering in Dundee was recently rated top in Scotland in the Research Excellence Framework 2014.
Penn State's Center for Nanoscale Science has been awarded a $15million grant from the National Science Foundation to support this project, which will develop new classes of materials through predictive modelling, newly developed methods of synthesis at the nanoscale, and advanced methods of testing and characterising materials and devices.
Roddy Isles
Head of Press
TEL: 01382 384910
MOBILE: 07800 581902
E-MAIL: r.isles@dundee.ac.uk