Dundee iGEM team to develop forensic `toolkit'
Published On Thu 6 Aug 2015 by Roddy Isles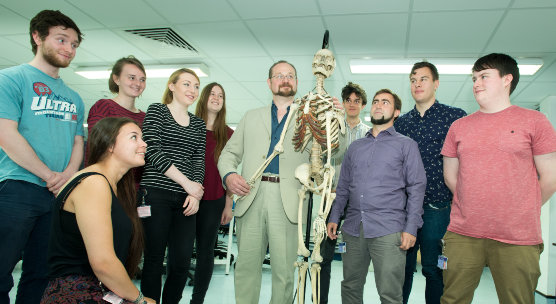 A team of students from the University of Dundee are developing a forensic `toolkit' that will allow investigators to determine the age of fingerprints, detect traces of steel on bone from stabbings, and produce a biosensitive spray that can reveal traces of bodily fluids at crime scenes.
The project is this year's Dundee contribution to the iGEM competition, a global challenge for students. iGEM – the International Genetically Engineered Machine competition – asks students to tackle a real world problem by designing and building a new device or system from a kit of biological parts.
Dundee has a strong record of success in the competition, having scooped several prizes in the past two years including the prized iGemmers Award, which goes to the team nominated best by their peers.
This year's team of students are working with forensic experts from the University's world-renowned Centre for Anatomy and Human Identification (CAHID) to develop their toolkit.
"Our project has three main aims – to develop the biosensor spray, identify a method of determining the age of fingerprints, and build a microbial chromatic sensor that can detect the presence of stainless steel on bones after chopping or stabbing," said Manuel Blank, one of the student team.
"The biosensor spray would be used to detect bodily fluids including blood, mucus, saliva and semen, for instance at a crime scene. Being able to determine the age of fingerprints would add another extremely useful element to a technique that has been used in criminal detection for many years.
"And if bones are hit by a knife it leaves tiny traces of steel, so if we can identify those traces from the bone then again it provides an additional tool for the forensic community."
The students, drawn from across Life Sciences, Engineering, Computing and Mathematics, have been working on the project throughout the summer. They will travel to Boston in September for the iGEM competition.
"It is an immensely challenging task to do this," said student Hannah Boyd. "The biosensor spray in itself is effectively four mini-projects rolled into one, so we have taken a lot on, but it is really interesting, particularly working with people like Professor Sue Black and Professor Niamh Nic Daeid at CAHID, who are world leaders in the field and have been fantastic in helping us.
"We have been speaking to scenes-of-crime officers, lawyers and others from the forensic sector to help understand what is needed and how we can best shape our project."
Niamh Nic Daeid, Professor of Forensic Science at CAHID, said, "This is a fantastic project and the great benefit for the forensic community, apart from tackling some important challenges, is that the project is starting out with a strong scientific foundation and building the applications from there, whereas in many contemporary forensic science methods the science is still lacking behind the applications. We need to develop a stronger scientific base across much of forensic science and this is an important contribution."
The students also met up with acclaimed crime author Stuart MacBride, who has a long association with the University and even has a dissecting room named after him at CAHID.
The team of ten students are: Lucy Armstrong (Life Sciences), Manuel Blank (Life Sciences), Hannah Boyd (Physics), Caitlin Connolly (Life Sciences), Conner Craigon (Life Sciences), Thomas Eve (Maths), Aimée Lamb (Life Sciences), Fiona Macfarlane (Maths), Edward Smith-Uchotsky (Physics), Callum Tromans-Coia (Life Sciences).
Professor Tracy Palmer, who is one of the team supervisors, said, "This is another great project for our iGemmers and builds on a great run of success for our students. I know they are extremely keen to emulate the success of their predecessors and we look forward to them taking their project to Boston."
Roddy Isles
Head of Press
TEL: 01382 384910
MOBILE: 07800 581902
E-MAIL: r.isles@dundee.ac.uk