Dundee enters World Top 20 of the under-50s
Published On Wed 29 Apr 2015 by Roddy Isles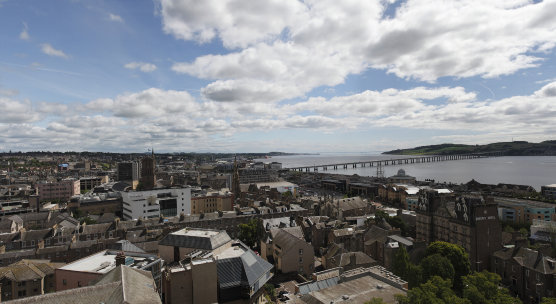 The University of Dundee has been named one of the world's top 20 universities founded in the last 50 years.
Times Higher Education's `100 Under 50' rankings for 2015 place the University of Dundee 19th= in the worldwide rankings. It is one of only two UK universities in the top 20, and the top ranked Scottish institution.
The University has also been awarded a Gold Award for Citations. Gold badges are awarded to only the top 10%of Universities ranked in the core indicators. Citations are a key measure of impact particularly in the medical and biological sciences, areas in which Dundee holds an international reputation for excellence.
"This is another tremendous accolade for the University and follows on from our strong showing in Times Higher's annual student experience survey, where we ranked top in Scotland for the sixth consecutive year," said Professor Pete Downes, Principal and Vice-Chancellor of the University of Dundee.
"The 100 Under 50 rankings showcase the best of the emerging universities around the globe so we are in good company and delighted to be among the top 20."
The Times Higher Education 100 Under 50 2015 is a ranking of the top 100 universities under 50 years old.
"The Times Higher Education100 Under 50 is a global showcase of institutions that are developing at an exceptional rate and that have managed to join the world's top table in a matter of years rather than centuries," said Phil Baty, Editor of THE World University Rankings
"It provides a glimpse into the future, showcasing not those institutions with centuries of history, but the rising stars which show great potential."
The rankings employ the same 13 separate indicators as the Times Higher World University Rankings but the 100 under 50 methodology has been carefully re-calibrated to reflect the special characteristics of younger universities, giving less weight to subjective indicators of academic reputation.
Dundee's excellent result in the THE 100 Under 50 rankings continues a run of rankings successes for the University – it was named this week as one of the fastest risers in the Complete University Guide 2016 rankings, among the world's elite universities in the QS World University Rankings by Subject, and maintained its position as top in Scotland in Times Higher Education's Student Experience Survey for the sixth consecutive year.
Roddy Isles
Head of Press
TEL: 01382 384910
MOBILE: 07800 581902
E-MAIL: r.isles@dundee.ac.uk