Dundee among world's best in subject rankings
Published On Tue 28 Apr 2015 by Grant Hill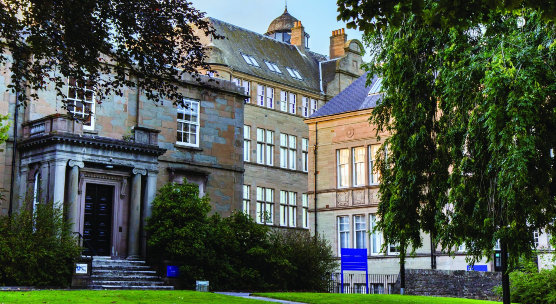 The University of Dundee features among the world's elite higher education institutions in this year's QS World University Rankings© by Subject, published on 29th April 2015.
Art & Design, Biological Sciences and Education at Dundee are in the World's Top 100, Medicine and Pharmacology feature in the Top 150, and English Language & Literature is in the Top 250 institutions worldwide.
This is the first time that Art & Design and English Language & Literature have been included in the QS Rankings and Dundee has made an immediate impact.
"It is very encouraging to see our performance in areas like Art & Design and English Language & Literature being ranked immediately among the best in the world," said Professor Pete Downes, Principal and Vice-Chancellor of the University of Dundee.
"The spread of subjects we are ranked in shows our strengths from life sciences and medicine right through to the Humanities."
This is the fourth edition of the QS World University Rankings by Subject. The rankings evaluated 3,467 universities and ranked 971 institutions in total. Over 82 million citations attributions were analysed and the rankings verified the provision of 13,132 programmes.
NOTES TO EDITORS
QS Quacquarelli Symonds www.qs.com
Founded in 1990, QS Quacquarelli Symonds is the leading global provider of higher education and careers information, independent research and solutions. Its activities span across 50 countries, working with over 2,000 international universities and business schools. QS's mission is to enable motivated people around the world to fulfil their potential by fostering international mobility, educational achievement and career development. QS provides services at each key career stage; first degree, Masters, PhD, MBA, and Executive-level. The team at QS consists of over 250 highly dedicated individuals from every corner of the world; collectively speaking 35 languages. QS is headquartered in London. Main offices: Paris, Singapore, Bucharest, Stuttgart. Satellite offices: Alicante ( Spain), Beijing, Johannesburg, Philadelphia, Portland ( Oregon), Shanghai, Sydney and Washington DC.
QS Intelligence Unit www.iu.qs.com
QS has been conducting research in a range of areas since 1990 beginning with a global survey of MBA employers. The QS World University Rankings®, the most established of the range of research projects that QS operates, have been in existence since 2004. To meet the increasing public interest for comparative data on universities and organisations, and the growing demand for institutions to develop deeper insight into their competitive environment, the QS Intelligence Unit (QSIU) was formed in 2008 as a distinct and autonomous department. Committed to the key values of rigorous integrity, undeniable value and charismatic presentation, QSIU strives to be the most trusted independent source of global intelligence on the higher education sector.
For media enquiries contact:
Grant Hill
Press Officer
University of Dundee
Nethergate, Dundee, DD1 4HN
TEL: 01382 384768
E-MAIL: g.hill@dundee.ac.uk
MOBILE: 07854 953277