Dundee among world's best in International Student Barometer
Published On Thu 2 Apr 2015 by Roddy Isles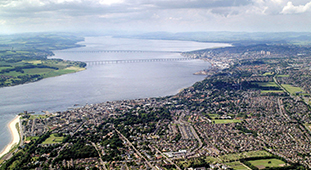 The University of Dundee has been ranked in the World Top 20 and number one in Scotland in the International Student Barometer (ISB) Survey, the largest annual study of international students in the world.
Dundee came first in Scotland (7th in the UK and 19th in the whole ISB) for overall average satisfaction in the International Student Barometer, This year responses were gathered from students in 183 institutions in 16 countries. This includes 54 UK universities, of which seven are Scottish.
The ISB is independently administered by the International Graduate Insight Group (i-graduate.org). The ISB examines four main aspects of the university experience – Arrival, Learning, Living and Support, and the University ranked highly in a number of key areas, particularly those related to the student experience and student support.
Professor Pete Downes, Principal and Vice-Chancellor of the University of Dundee, said, "There is nothing more important to a University than the quality of the experience enjoyed by its students so it is extremely encouraging to once again find ourselves ranked among the very best in the world.
"We put in a lot of work not just in recruiting international students to come to Dundee but in making sure they get the best possible experience when they are here. Students from overseas enrich the cultural and social life of the university and the city, bringing the world to Dundee.
"The student experience at Dundee has been consistently rated among the best in the UK and we will continue to strive to offer a transformative experience to our students from home and abroad."
In addition to appearing in the top 10% of all ranked institutions for average satisfaction across all elements in the living and support sections, this latest survey saw the University of Dundee ranked in the Top 20 across the entire ISB (183 institutions in 16 countries) for the following individual elements. For many of these and more, the University was also ranked 1st in Scotland and in the UK Top 10.
Rankings

Element

ISB (/183)

UK (/54)

Scottish (/7)

Disability services

2nd

2nd

1st

Enquiry Centre/ Student support

4th

4th

1st

University clubs/societies

4th

1st

1st

Cash office

4th

4th

1st

Accommodation office

7th

4th

1st

Making friends from this country

6th

4th

1st

Help to improve my English language skills

12th

1st

1st

Condition of accommodation on arrival

13th

3rd

1st

Making friends from other countries

14th

3rd

1st

Internet access at my accommodation

15th

1st

1st

The cost of living

15th

6th

1st

Opportunities to experience the culture of this country

16th

4th

1st

The facilities for religious worship

17th

10th

2nd

Careers Service

17th

9th

1st
The ISB has gathered feedback from 2 million students since its inception in 2005 and as well as gathering feedback on how satisfied their students are with their university experience, it also provides a useful benchmark for all the universities participating. The University of Dundee has participated in the ISB since 2007.
Roddy Isles
Head of Press
TEL: 01382 384910
MOBILE: 07800 581902
E-MAIL: r.isles@dundee.ac.uk