D'Arcy Thompson Zoology Museum Easter openings
Published On Tue 31 Mar 2015 by Grant Hill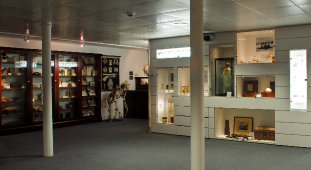 The University of Dundee's D'Arcy Thompson Zoology Museum will open to the public over the Easter weekend, with a particular focus on family visits in light of its recent accreditation as a learning destination for the Children's University.
The Children's University seeks to "cultivate the imagination of pupils, as well as motivating them and building their self-confidence" by providing children aged between 7 and 14 with the opportunity to take part in voluntary, out-of-school-hours learning.
The D'Arcy Thompson Zoology Museum aims to provide children involved in the scheme with activities and special events that will help them build up the credits they need to graduate. Future activities will include worksheets, art and craft events to inspire creativity and informal talks where they will learn about the fascinating things the collection has to offer.
Assistant Curator Hope Roberts, said, "The D'Arcy Thompson Zoology Museum will be open to everyone over the Easter weekend and there are plenty of things to see and learn during the visit, with members of staff available to answer any questions."
The museum will be open on Good Friday (3rd April) from 2-4.30pm and Easter Saturday (4th April) from 10am-12.30pm. The entrance can be found by the front door of the Carnelley Building.
For media enquiries contact:
Grant Hill
Press Officer
University of Dundee
Nethergate, Dundee, DD1 4HN
TEL: 01382 384768
E-MAIL: g.hill@dundee.ac.uk
MOBILE: 07854 953277