'Colour Decoding' – new exhibition at Lamb Gallery
Published On Wed 1 Apr 2015 by Grant Hill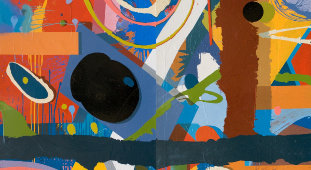 A new exhibition that opens in the University of Dundee's Lamb Gallery this Saturday promises to provide visitors with a blast of colour, thought they are advised to display particular caution around one of the exhibits – a jar of dried cow's urine.
'Colour Decoding' explores the theme of colour in both art and science and contrasts to mono 68, an exhibition of black-and-white images of Dundee's past that has just finished its run at the Lamb Gallery.
Using objects and artworks from the University's Museum Collections, 'Colour Decoding' highlights the way colour acts on our senses and in the world around us.
Curator Matthew Jarron explained, "After the huge success of our black-and-white photography exhibition Mono 68, we wanted to go for something really colourful. This show features some of our liveliest paintings and prints but also some beautiful iridescent birds from our zoology collection, gorgeous fabrics and embroideries from our textile collection and early colour blindness tests from the medical collection."
Among the most unusual objects included are those collected by R P Cook, a biochemist working at the University in the 1960s and 70s. Cook was fascinated by the science of colour, and collected a number of unusual objects including a fragment of red guardsman's uniform from the Crimean War and a jar of dried cow's urine used in India to make yellow dye.
The exhibition opens on Saturday, 4th May, and runs until 23rd May. Admission is free.
For further information, please contact Matthew Jarron on 01382 384310 or museum@dundee.ac.uk.
For media enquiries contact:
Grant Hill
Press Officer
University of Dundee
Nethergate, Dundee, DD1 4HN
TEL: 01382 384768
E-MAIL: g.hill@dundee.ac.uk
MOBILE: 07854 953277